Electric Works, NIIC Announce New Partnership for Entrepreneurs
Maya Wilkins | The Journal Gazette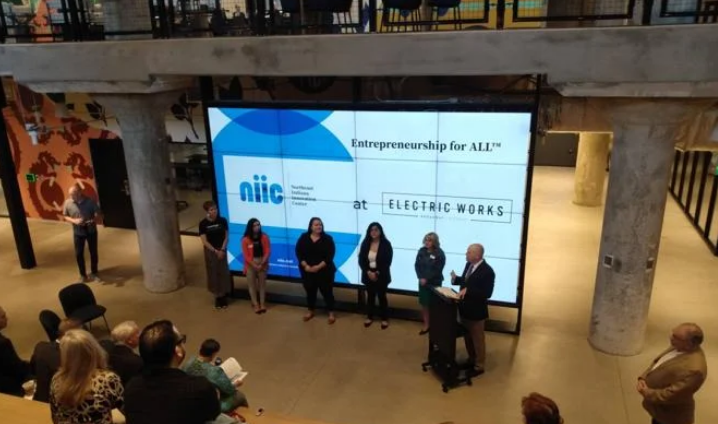 While announcing another space for entrepreneurs to grow in Fort Wayne, Jeff Kingsbury called Electric Works "a place talent wants to be."
"We have been trying to create a hub of innovation for the region, a place where a lot of the key assets of organizations can convene and collaborate. … That's really where new ideas get formed; that's how innovation happens," said Kingsbury, the chief connectivity officer for Ancora, the lead developer for Electric Works.
On Tuesday, the multiuse Fort Wayne development announced it is partnering with the Northeast Indiana Innovation Center to advance NIIC's "Entrepreneurship for ALL" initiative.
NIIC created a satellite location in the Carr Workplaces coworking area at Electric Works. About 30 businesses use that space weekly.
NIIC business coaches will be available on-site from 8 a.m. to 5 p.m. Monday through Friday to work with local entrepreneurs at Electric Works on Broadway. NIIC's primary location, which also includes coworking space, is at 3201 Stellhorn Road.
"Organizations like (this one) are really important to how we're going to make this place an economic engine for the next century the way like (General Electric) was in the last one," Kingsbury said.
Read the rest of the article on The Journal Gazette
NOTE: paid subscription required for access