Fort Wayne's WEOC WBC named top U.S. Small Business Administration (SBA) Women's Center of the Year in the Region
Laura Schafsnitz, SBA Indiana Public Affairs, and Tammy Allen, NIIC SR. Director | Marketing & Communications
Award presented during National Small Business Week at a press conference at the Northeast Indiana Innovation Center (NIIC) on May 3, 2023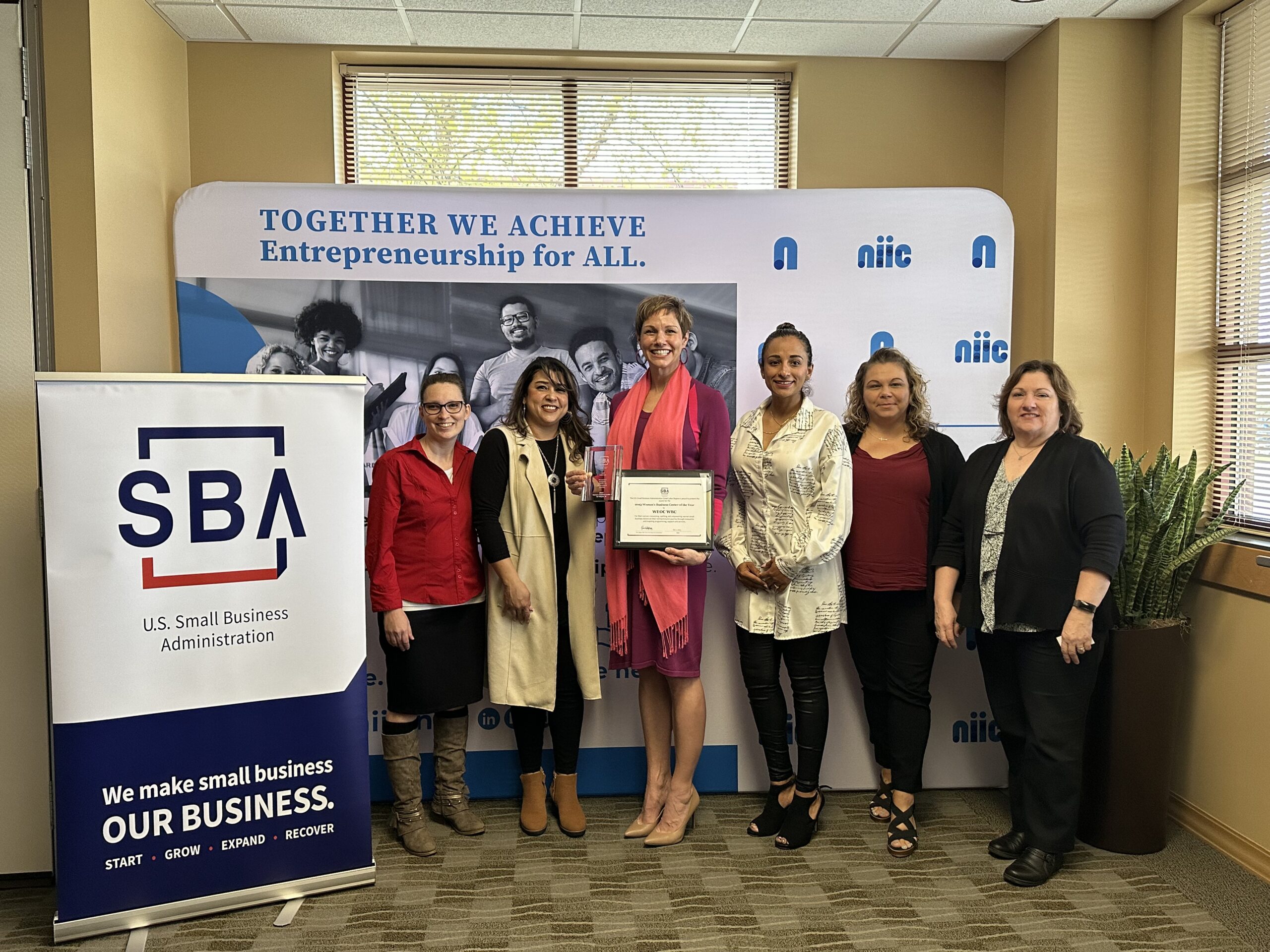 Photo 1 WEOC Women's Business Center Clients Sabrina Link, Sabrina's Cleaning Services; Juliana Restrepo, Columbian Delights, LLC;  Leslee Hill, NIIC's WEOC WBC Director;  Liz Taylor, Taylor;  Deva Betts, Game Day Photography; Lisa Mungovan, Mungovan Consulting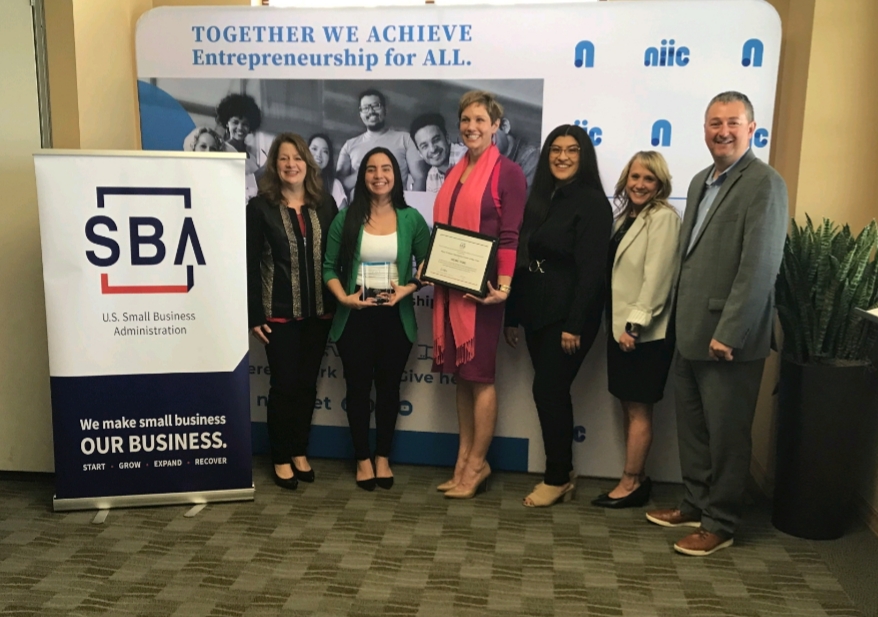 Photo 2 U.S. Small Business Administration Indiana District Director Stacey Poynter (far right) with the WEOC WBC team at the NIIC in Fort Wayne. The WEOC WBC won the SBA award for Best Women's Business Center in the six-state Great Lakes Region and the state of Indiana, honoring their achievements in supporting women entrepreneurs throughout northeastern Indiana. Left to right from the NIIC: Tammy Allen, Rosalina Perez, Leslee Hill, Samantha Cazares, Jami Thomas and SBA District Director Stacey Poynter.
FORT WAYNE –May 3, 2023—The U.S. Small Business Administration (SBA) has named the WEOC WBC as the 2023 Great Lakes Region and Indiana Women's Business Center of the Year. The award recognizes WEOC WBC as the top-performing Women's Business Center not only in the state of Indiana but also in the six-state Great Lakes region, which includes Indiana, Illinois, Michigan, Minnesota, Ohio, and Wisconsin.
"As the SBA Great Lakes Regional Administrator, I'm proud that we're highlighting the WEOC Women's Business Center during National Small Business Week," said SBA Great Lakes Regional Administrator Geri Aglipay. "SBA-funded women's business centers are located in every state in the nation. They are designed to level the field by expanding access to no-cost and low-cost confidential counseling and training, social capital, and financial capital so that more women can own successful small businesses that create jobs, income security and close the gender wealth gap."
"Small business is the backbone of the American economy," said SBA Indiana District Director Stacey Poynter. "Over 99% of the businesses in Indiana are small, and women own 47.3% of them. The WEOC WBC meets the needs of women entrepreneurs by providing outstanding support and wrap-around services using a creative, inspired, and innovative approach to programming, business coaching, and mentoring. The WEOC WBC team understands the barriers women face and meets them where they are on their journeys, without judgment. They empower women by acting as a guide lighting their way for entrepreneurial success." WEOC WBC clients Sabrina Link, Sabrina's Cleaning Services; Lisa Mungovan, Mungovan Consulting; Juliana Restrepo, Columbian Delights, LLC; and Liz Taylor, Taylor Spa, were featured at the press conference.
Located in Fort Wayne at the Northeast Indiana Innovation Center (NIIC), the WEOC WBC serves Northeast Indiana women at all stages of their business ventures. WEOC WBC provides business growth coaching, training and education, connectivity, mentoring, and access to capital.  During FY 22, the WEOC WBC served 719 clients at all stages of small business ownership, empowered nine new business starts, and helped women business owners secure nearly half a million dollars in small business funding.
"I am so proud of what our WEOC women's business center has achieved over the past eight years and how many women and immigrants we've served in Northeast Indiana. We are grateful for this regional recognition from the SBA. We at the NIIC continue to focus on helping underserved communities. Leslee Hill and the NIIC team have grown our women's program to a new level," said Mike Fritsch, President & CEO, NIIC.
WEOC WBC's innovative and collaborative programming includes the Launch Women Business Builder Accelerator, Masterminds cohorts, and quarterly GET REAL – Glass Floor Network events designed to address women business owners' lack of funding and educate them on financial principles. Leslee Hill, WEOC WBC Director said, "Each year, all 150 WBCs across the country get together to share best practices and learn from and inspire each other.  It's easy to think we don't measure up against the amazing programming provided by other centers. Receiving this regional award for WEOC WBC is such a high honor."
Proclamations for National Small Business Week were provided by Indiana Governor Eric J. Holcomb and City of Fort Wayne Mayor Thomas Henry. Stephanie Crandall, Director of Intergovernmental Affairs for the City of Fort Wayne presented the proclamation from the city.
In addition to the SBA Women's Business Center award, SBA Indiana recognizes winners in other SBA National Small Business Week categories, including:
SBA Indiana Small Business Person of the Year
SBA Great Lakes Region & Indiana 8(a) Graduate of the Year
Haskell D. "Danny" Portee, President/CEO
Jesse Camacho, President/CEO
Professional Management Enterprises, Inc., Indianapolis
Camacho Equipment & Janitorial Supply, Inc., Greenfield
SBA Indiana Exporter of the Year
SBA Indiana Small Business Development Center Excellence and Innovation Award
Carol Podolak & Joy Thompkins
BNutty Peanut Butter, Portage
Southeast Indiana Small Business Development Center, New Albany
To learn more about SBA Indiana resources, services, and events, please visit www.sba.gov/in.  You can also follow us on Twitter @SBA_Indiana.
###
About SBA National Small Business Week
For nearly 60 years, the President of the United States has issued a proclamation announcing National Small Business Week, recognizing the critical contributions of America's entrepreneurs and small business owners.  More than half of Americans either own or work for a small business, creating about two out of every three new jobs in the U.S. each year.  As part of National Small Business Week, the U.S. Small Business Administration takes the opportunity to highlight the impact of outstanding entrepreneurs, small business owners, and others from all 50 states and U.S. territories.  Every day, they're working to grow small businesses, create 21st century jobs, drive innovation, and increase America's global competitiveness.
About the U.S. Small Business Administration
The U.S. Small Business Administration helps power the American dream of business ownership. As the only go-to resource and voice for small businesses backed by the strength of the federal government, the SBA empowers entrepreneurs and small business owners with the resources and support they need to start, grow, expand their businesses, or recover from a declared disaster. It delivers services through an extensive network of SBA field offices and partnerships with public and private organizations. To learn more, visit www.sba.gov.
About NIIC
About 20 years ago, NIIC was created to solve a problem. Aspiring innovators and entrepreneurs needed somewhere to go in Northeast Indiana to incubate their businesses. Visionary leaders imagined a place where innovation and economic development intersect for a COMMUNITY. Entrepreneurs and innovators have launched hundreds of new products and patents, created thousands of jobs, and infused hundreds of millions in grants and capital into our economy.
As a Venture Hub, NIIC pulls down barriers (geographic, racial, socio-economic, and interest-based), working with the regional Community of Communities to create an ecosystem of Entrepreneurship for ALL. NIIC's focus is collaboration and maximizing the impact of regional partners.
The International Business Innovation Association (InBIA) recognized NIIC with the 2020 Dinah Adkins Award and the Entrepreneur Center of the Year: Mixed Use Award. NIIC's WEOC Women's Business Center (WBC) is one of two U.S. Small Business Administration-designated Women's Business Centers in Indiana. WEOC WBC was named the 2022 SBA Indiana Women's Business Center of Excellence.