Kiva Hub microlending program opens in northeast Indiana,
Tammy Allen, NIIC Director | Marketing & Programs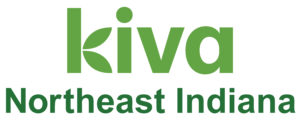 State's second Kiva Hub provides capital to small businesses
Contact: Tammy Allen, Director, Marketing & Programs, tallen@niic.net, 260-407-1731
November 9, 2020, Fort Wayne, Ind.— Start-ups and small businesses in Northeast Indiana now have a new option for securing capital. Kiva Hub Northeast Indiana, a crowdfunded microlending center, has opened at The Northeast Indiana Innovation Center (The NIIC) with the collaboration and support of The City of Fort Wayne, SEED, and the Indiana Economic Development Corporation.
Kiva Hub is designed for business owners who may lack access to traditional financing. "The collaborators are unified in their goal of promoting and encouraging microentrepreneurship by inclusive and diverse business builders. The Kiva Hub is focused on preparing underestimated founders for business and financing opportunities to fuel and fund their business launch and support their early-stage growth," stated Karl R. LaPan, President & CEO, The NIIC.
"Kiva connects aspiring entrepreneurs with capital in a unique way," said Jami Thomas, NIIC Grants Compliance Specialist and Kiva-Capital Access Manager. "It provides a non-traditional opportunity for business owners who may have faced obstacles through those lending sources. Through Kiva Northeast Indiana business builders may obtain crowd-sourced loans. Community-minded funders can invest in local start-ups and small businesses knowing that their contributions will help build the regional economy and put Hoosiers to work."
Thomas completed the Kiva certification process in August, which opened this opportunity to Northeast Indiana entrepreneurs seeking funding. Within a week's time, Thomas was coaching a client, who successfully secured her funding within 10 days.
Kiva Hub Northeast Indiana offers distinct advantages to newer, smaller businesses that may lack credit history to secure a traditional bank loan. Kiva will not reject an entrepreneur because of their credit, net worth, or years in business. Rather, Kiva's crowd-sourced model determines borrowers' creditworthiness through social underwriting based on character and reputation.
Through Kiva Northeast Indiana, individuals can support loans to local entrepreneurs with contributions beginning at $25. These funds are pooled and loaned to entrepreneurs. Borrowers can access up to $10,000 at zero percent interest with no fees. Globally, Kiva loans have a 97% or better repayment rate.
Kiva is a global nonprofit organization that takes its name from a Swahili word meaning agreement or unity. Since its founding in 2005, Kiva's crowd-funded lending platform has brought together entrepreneurs and investors in 89 countries worldwide. In the United States, Kiva has addressed financial exclusion by connecting 5,500 borrowers to 230,000 lenders and facilitating loans totaling $29 million.
"The graduates of our Build Institute Business Education Program frequently need micro-financing. The NIIC's Kiva Hub is going to be a game changer for those startups," said Trois Hart, SEED Fort Wayne Director. "The City of Fort Wayne is working diligently to help provide opportunities for women and people of color who are under connected to funding, information, and other resources needed to successfully launch a business."
Small businesses are an essential part of the economy, creating two out of every three new jobs in the United States.
"The IEDC understands the importance of creating an inclusive access to capital culture in our entrepreneurial ecosystem. Through innovative programs like the Kiva Hub, Northeast Indiana can capitalize on providing both the business advisory services and increasing access to the first rung of the capital ladder. That often can make the difference in whether a new venture starts, or an existing one can grow," stated Mark Wasky, Vice-President Innovation & Strategic Initiatives, Indiana Economic Development Corporation (IEDC).
The NIIC coaches and guides entrepreneurs through the process of securing funding to help increase their odds of success.
Kiva Hub aligns well with The NIIC's ongoing commitment to inclusive entrepreneurship (https://niic.net/inclusive-entrepreneurship). The NIIC currently operates five additional programs designed to reduce barriers to business-building often faced by women, minorities, immigrants, formerly incarcerated individuals, veterans, and rural residents. The NIIC's inclusive entrepreneurship programs are designed to empower diverse founders to fully realize their economic and human potential through entrepreneurship.
Kiva Northeast Indiana is the organization's second microlending center in Indiana. Bankable in Anderson is the Kiva Hub for the greater Indianapolis area.
About Kiva
Established in 2005 as the world's first personal micro-lending website, Kiva enables everyday people to pool lending contributions as little as $25 to provide financial access to entrepreneurs in developing communities across the globe. Since its beginning, serving loans to a handful of fishmongers in eastern Uganda, Kiva has grown to enable over 1.7 million lenders worldwide to lend a combined $1.2 billion to more than 2.6million entrepreneurs in 89 countries around the world. Kiva has been able to reach this global scale while still maintaining a 97% repayment rate.
About The NIIC
467 new products launched, 189 patent applications submitted or granted, and 2,290 jobs created—that is what entrepreneurs have achieved through The NIIC since its inception 20 years ago. The NIIC has also connected Northeast Indiana companies to attract $91 million in grants and capital.
The NIIC is a non-profit, vibrant entrepreneurial community designed to advise entrepreneurs to plan, launch, and grow successful business ventures by moving ideas into action. The NIIC's 55-acre campus is a U.S. Small Business Administration HUB Zone and a designated Opportunity Zone through the U.S. Treasury. The NIIC is the country's only ISO9001:2015 registered business incubation and acceleration program. The NIIC received global recognition in 2020 as the International Business Innovation Association's Mixed-Use Entrepreneur Center of the Year and recipient of the prestigious Dinah Adkins Award, one of InBIA's top two honors.  TheNIIC.org. Click here for The NIIC press kit.
# # #