Would You Like Fries With That?
KARL R. LAPAN, PRESIDENT AND CEO OF THE NIIC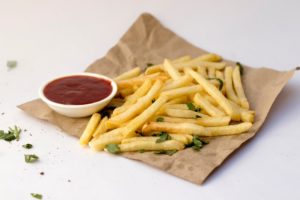 Courtesy of Pixzolo Photography
Despite what you think of the quality of their food, the customer experience you enjoy or the business model challenges facing quick-service restaurants, U.S. based quick-service restaurant (QSR) chains are increasingly vying for market share, and the top three are competing neck and neck with each other, according to the most recent data available. Per the report, McDonald's, Starbucks, and Chick-fil-A took the top three spots in that order.
So, what's the secret sauce? Here are three reasons why I believe these chains are such powerhouses:
McDonald's
McDonald's has mastered the art of consistency and brand recognition. It doesn't matter if you're visiting a McDonald's in Ohio or Hong Kong – you're going to have a similar experience wherever you are. This highlights the founder's Ray Kroc's vision for McDonald's from the beginning and part of the reason why Micky D's is still relevant today.
The consistency is rooted in a systematic approach. McDonald's training program, Hamburger University, has taught future franchisees how to run a store the way Kroc laid out over five decades ago. This methodology informs the entire experience, from ordering to enjoying the food.
Third, McDonald's has been at the forefront of innovation in the industry. They were among the first QSRs to add a drive-thru to their stores. Moreover, over the years, they've test-marketed dozens of new products and innovations. The willingness to take risks has played a significant role in fending off stagnation over the years.
Starbucks
Starbucks has managed to offer much more than a cup of coffee and snacks. They have worked hard to become a "third place," an alternative venue (from work or home) for socializing. Not coincidentally, the company operates with a strong sense of attention toward details, meaning like McDonald's it offers a consistent customer experience globally. That applies to the drinks and the atmosphere. Although there's room for some interpretation store to store, the general Starbucks interior design concept is fairly consistent no matter the locale.
Lastly, Starbucks has been recognized for its social reasonability practices. For example, they employ ethical, sourcing practices and work with coffee farmers to empower them with education and training. Most recently, the coffee giant announced it would eliminate all plastic straws globally by 2020, a move that has captured attention of people committed to sustainability practices.
Chick-fil-A
On the surface, closing on Sundays might not seem like a decision with far-reaching effects. However, I believe this move is inherent to its success. Chick-fil-A has profited from creating a concept of scarcity and reinforced their core purpose and values. By closing on Sunday, the restaurant chain creates more of demand the other days of the week. Therefore, the Chick-fil-A experience becomes more of a novelty than QSRs that remain open seven days a week.
The corporate culture is no doubt informed by its intentional approach to operations. Since 1973, Chick-fil-A has given more than $35 million in college scholarships to employees. They help out employees in other ways, too. With a guaranteed day off (Sunday), the company promotes a healthy work-life balance. Leadership knows that happy employees are productive ones, only adding to the bottom line.
If you frequent one or more of these restaurants, what do you most enjoy about the experience? What can business builders learn from their success?