Event Info:
The Dr. Daryl Yost
Ideas@Work

Event, April 19, 2023
Registration and Sponsorships are Now Open!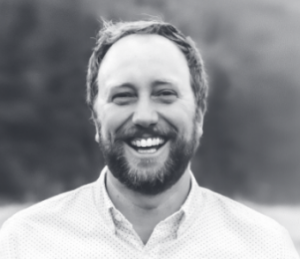 You won't want to miss this! Join the entrepreneurial community, educators, and business leaders on April 19, 2023, 11:30 a.m. – 1 p.m., to celebrate innovation, outstanding community leadership and to be inspired by our keynote speaker.
Patrick Riley, CEO and Managing Partner of MORROW (formerly Global Accelerator Network or GAN) is this year's keynote speaker.
We encourage event check-in at 11:15 a.m. for the program, which promptly starts at 11:30 a.m. The event ends at 1 p.m. with optional networking to follow.
---
Individual registration for the event if $150, and sponsorships are available.
Sponsorship
Interested in sponsoring entrepreneurs to attend or sponsoring the event? Simply complete this form and send it to Jami Thomas, jthomas@niic.net. Or, contact Jami if you'd like to hear more about sponsorships.
---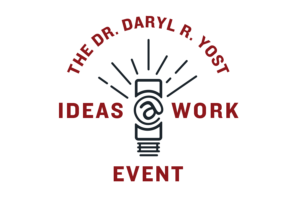 Fueling Innovation & Entrepreneurship
The annual Dr. Daryl Yost Ideas@Work Signature Event Series traditionally convenes up to 500 entrepreneurs, business leaders, and students to fuel the innovative and entrepreneurial spirit in Northeast Indiana and the greater region. The Parkview Mirro Center for Research and Innovation serves as the event venue.
Each Ideas@Work event features dynamic, distinguished leaders in innovation and entrepreneurship. We celebrate entrepreneurs and outstanding leadership in our community. Read about our 2022 Ideas@Work Event dynamic Keynote Speaker Jay Bailey and award recipients, Cheryl Taylor and 46 Graphics Co-Owners.
Thank you, Ideas@work sponsors, for your support of our entrepreneurial community

Videos:
Blogs:
Many in the Northeast Indiana region have the privilege of knowing Cheryl Taylor through her leadership of innovative philanthropy in Allen County. For the past two decades, she was President of Foellinger Foundation, a private, charitable foundation in Fort Wayne, Indiana, with assets of $200M. She is also the Founder and Owner of Taylor Leadership Coaching & […]
---
Each year as we plan our annual Ideas@Work event, we strive to bring a compelling keynote speaker to inspire, provoke thought, and provide actionable learnings. Keynote Speaker, Jay Bailey, President and CEO, Russell Center for Innovation and Entrepreneurship certainly delivered. What are YOU doing with the three feet around you? Download the Key Takeaways Card […]
---
Do you know that feeling when several days after attending a conference, you still think on what you heard? Many individuals expressed this about our NIIC Ideas@Work Event. Keynote Speaker Jay Bailey, entrepreneur, emerging philanthropist, and President and CEO of the Russell Center for Innovation and Entrepreneurship (RICE), inspired and challenged. He was honest about […]
---
If living through a pandemic has taught us anything, it's flexibility, resiliency, vision, and finding silver linings. Wendy Kennedy, President and Founder, WKI, wendykennedy.com, calls these silver linings milestone moments. "We have to stay focused on the silver linings. We've been through tough times before. Focus on the true value you are delivering," said Kennedy. […]
---
In this season of New Year's resolutions and goal setting (integral to success), what would happen if we strive for something greater? A driving force for all we do in our lives? Enter, ikigai—a Japanese term meaning "a reason for being." What would happen if we all lived from that place? My place, my ikigai? […]
---
Successful entrepreneurs share certain qualities and behaviors. Embracing those may help you stay grounded and propel your success. The NIIC had the privilege to host Fort Wayne, Indiana native Angie Hicks, founder of the home services website Angie's List, as a keynote speaker for our NIIC Ideas@Work Event. Her story is inspiring and encouraging. Her connection with […]
---
We all need guiding points for navigating life, from business interactions to family, home and friends. Chuck Surack, Sweetwater Sound, Sweet Cars and Sweet Aviation Founder (among various other entrepreneurial ventures) shared in The NIIC Ideas@Work Keynote five rules he lives by in our community and through his global companies. Here they are, summarized and expanded. 1) It's all […]
---
Wouldn't it be great if million-dollar ideas grew on trees? They take hard work, ingenuity, and often lead you outside your comfort zone. For sports agent and entrepreneur J.B. Bernstein, his breakthrough came from looking through a new lens at something as traditional as baseball. Drawing on his unique cross-cultural experience, Bernstein created The Million Dollar Arm contest […]
---
There's a reason a small percentage of the general population pursues entrepreneurial ventures. Myths and misconceptions abound, which dissuades many. Following are five myths and realities inspired by Dr. Donald F. Kuratko (Dr. K.), a national leader of entrepreneurship. Seriously, check out his biography. I had the pleasure of hearing him keynote The NIIC Ideas@Work Event a couple […]
---
Sponsorship:
Interested in sponsoring our Ideas@Work event?
For information about sponsoring Ideas@Work, contact Jami Thomas at jthomas@niic.net
Key Takeaway Cards:
Mirro Founder Award:
The Ideas@Work Signature Event Series serves as a platform to celebrate and recognize business builders. Established in 2015, the award was named after Dr. Mike Mirro, a prominent physician, entrepreneur, visionary, researcher and community leader. Dr. Mirro was the founding board chair of The NIIC. Originally, the award was presented to clients of The NIIC student business builder program. This has changed to also include all NIIC clients.
2022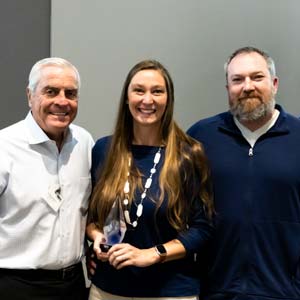 NIKKI & BRET KEISTER, 46 GRAPHICS
---
2021 – The NIIC Ideas@Work 2021 event was rescheduled to May 2022 due to COVID-19 Pandemic restrictions.
---
2020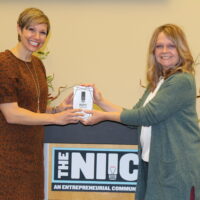 ANGELA HARRISON, BAKERSON PIE COMPANY
---
2019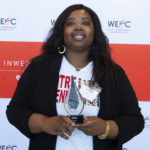 JILLIAN LEE, UNIQUELEE CREATIONS, LLC.
---
2018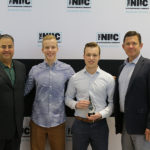 3B APPS, FOUNDERS NATHAN AND MITCHELL SKEES
---
2017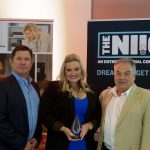 JENTRI CRIPE, OWNER/DESIGNER, SPREAD THE SPARKLE
---
2016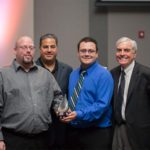 D-N-S DESIGN, FOUNDERS MATT VANLANDINGHAM AND LINDAL WALKER
---
2015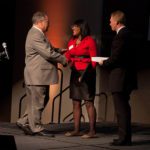 ASHELY COLEMAN, LA'SHIC, CREATOR OF ORTHOPEDIC HIGH HEELS
The Dr. Daryl R. Yost Excellence in Philanthropy Award:
Established in 2020 to honor The NIIC's former colleague and friend, The Dr. Daryl Yost Excellence in Philanthropy Award recognizes an exemplary, innovative philanthropist who leads transformational change in our community.
PAST RECIPIENTS:
2022: Cheryl Taylor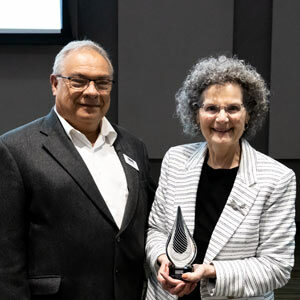 In 2022, Mike Fritsch, NIIC President and CEO, presented the award to Cheryl Taylor. "Cheryl is a trailblazer, a pioneer, a philanthropic thought leader, a disruptor, a coach, and a mentor. Cheryl and her team created transformational opportunities to equip leaders to be better leaders. They fostered a culture of care to bend the curve on Allen County nonprofit organizations to be more effective, to embrace community, and more importantly, the collegiality of practice to set a high bar of excellence," said Fritsch.
2020: Maclyn (Mac) Parker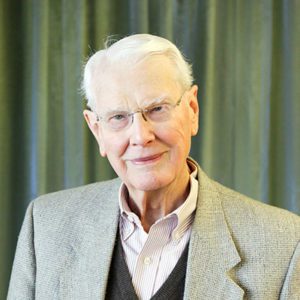 In 2020 Maclyn (Mac) Parker, Chair, The Olive B. Cole Foundation, was the inaugural award recipient. Mac is a NIIC Board Member and has been since its inception over 20 years ago. Through his leadership and commitment, he has demonstrated his ability to support The NIIC throughout its life. It's an honor on behalf of The NIIC Board and our entire organization for this award to be presented to Maclyn (Mac) Parker.
Upon receiving the award, Mac said, "It is a real honor to receive this award, particularly because it is named after Daryl Yost. He was a mentor of many and a good friend to a lot of us." While accepting the award, Parker reflected on visiting Indianapolis and Chattanooga some years ago and was inspired to pursue entrepreneurial endeavors for Northeast Indiana. This led, in part, to the formation of The NIIC. "New job creation and helping entrepreneurs is important to economic development. The NIIC has fostered that. Karl LaPan has been such a great leader, and The NIIC has done so much in our community, leading entrepreneurship."
Dr. Daryl Yost Business Builder Fund: