BioPoly® Announces FDA Clearance of Its Lesser Toe Implant
Herb Schwartz, Ph.D., President & CEO, BioPoly LLC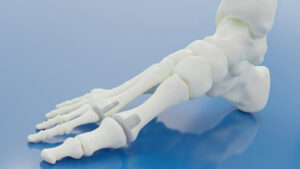 FORT WAYNE, IN – BioPoly LLC has announced that the U.S. Food and Drug Administration has granted clearance for its BioPoly® Lesser Toe System, BioPoly's second FDA-cleared product in the U.S. market.
BioPoly's Great Toe System was the first product to receive FDA clearance, which is currently being sold in the US for patients with arthritis leading to a stiff or painful great toe. "We are excited about achieving our second FDA clearance with BioPoly technology as we continue to build momentum in our extremity portfolio. The Great Toe System is performing well clinically and we expect the same from our BioPoly Lesser Toe System," said Ryan Schlotterback, BioPoly President and CEO. "We plan to launch the Lesser Toe System into the market mid-2023. In addition, we have some exciting products in the upper extremity that we anticipate announcing in the new year."
According to Sheila Schwartz, BioPoly COO, "Our manufacturing and supply channels are prepared to handle the increasing demand for our BioPoly products. Therefore, as we introduce the BioPoly Lesser Toe System along with the BioPoly Great Toe System, we have ample capacity with room for growth as we add even more implant product lines which are already in the pipeline."
BioPoly is an advanced orthopedic biomaterial that is a combination of polyethylene (UHMWPE) and hyaluronic acid. This proprietary combination results in a strong, hydrophilic (water attracting) material. The BioPoly material behaves like a synthetic cartilage that has the unique ability to articulate with native cartilage while minimizing damage to the native tissue, providing an excellent hemiarthroplasty material. The BioPoly® Lesser Toe implant replaces one side of the joint with a cartilage friendly surface and robust fixation to the bone, maintaining motion at the joint while allowing the patient's healthy cartilage to remain intact.
About BioPoly LLC
BioPoly LLC is an ISO 13485 certified orthopedic implant manufacturer located in Fort Wayne, Indiana. The Company is developing, manufacturing and marketing products for use in sports medicine and orthopedics markets. Visit our website:www.biopolyortho.com