Entrepreneur and Philanthropy Awards Presented, Keynote Speaker Inspires and Presents a Challenge at Annual Event
Tammy Allen, Director | Marketing & Programs, The NIIC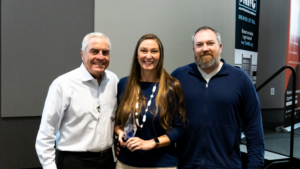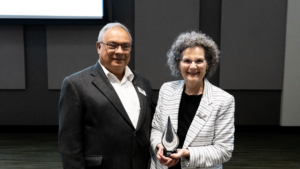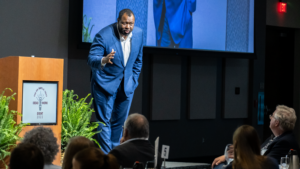 FOR IMMEDIATE RELEASE
FORT WAYNE, Ind.—46 Graphics, co-owned by Nikki and Bret Keister, received the Dr. Mike Mirro Founder Award. Philanthropist and business owner Cheryl Taylor received the Dr. Daryl Yost Excellence in Philanthropy Award. The awards presentations are part of The NIIC's annual Dr. Daryl Yost Ideas@Work Event. Business owners, leaders, educators, and the broader community convened to celebrate innovation and the entrepreneurial spirit in Northeast Indiana.
Event participants were inspired and challenged by Keynote Speaker Jay Bailey, entrepreneur, emerging philanthropist, and President and CEO of the Russell Center for Innovation and Entrepreneurship (RICE).
Dr. Mike Mirro Founder Award
Dr. Michael Mirro, NIIC Founding Board Chair and Chief Academic/Research Officer, Parkview Health, presented this award to the Keisters. It was established seven years ago to shine a light on entrepreneurs, their sacrifices, and progress in starting and building their businesses.
"The recipient of this year's award has been working with our WEOC Women's Business Center since 2019. The foundational work of building a business is critical for success. 46 Graphics founders attribute the foundational work done through the support of NIIC business coaches as paramount to their success. Through 1-to-1 business coaching and mentoring, they tackled the hard operational work necessary. To help fill knowledge gaps, they upskilled through workshops and training through The NIIC. We look forward to watching their company grow and prosper."
The Dr. Daryl Yost Excellence in Philanthropy Award
Established in 2020 to honor The NIIC's former colleague and friend, The Dr. Daryl Yost Excellence in Philanthropy Award recognizes an exemplary, innovative philanthropist who leads transformational change in our community.
Mike Fritsch, NIIC President and CEO, presented the award to Taylor. "Cheryl is a trailblazer, a pioneer, a philanthropic thought leader, a disruptor, a coach, and a mentor. Cheryl and her team created transformational opportunities to equip leaders to be better leaders. They fostered a culture of care to bend the curve on Allen County nonprofit organizations to be more effective, to embrace community, and more importantly, the collegiality of practice to set a high bar of excellence," said Fritsch.
In her acceptance remarks, Taylor said, "What do we do with our time? What do we do with our advocacy? Entrepreneurship is creativity in developing goods and services and better ways to live. This affects the nonprofit world, where there is more and more demand for social entrepreneurship to address society's challenges. You all give me hope that the next decade we'll see even greater partnerships between you, the entrepreneurs, and the nonprofits who so desperately need your help to make our home a better place."
Keynote Speaker Jay Bailey Inspires and Challenges
"Entrepreneurship has always been the link in my life. I have a really incredible story, guys. It's been one of a lot of trials. I'm the kid that started his first business at (age) 12. I bought my first house at 19. I made my first $1 million by the time I was 23. But, because I didn't have good money role models, I went from living in a 10,000 square foot home to literally being homeless, living in a nine-by-nine storage unit at 28," said Bailey.
"Unfortunately, my life has had a really long line of losses, but I'm a firm believer that loss creates leaders. If you've not been on your back, I doubt if you've ever really seen the sun," said Bailey. He shared about those losses and his epiphany that led back to the teachings of his mother, who was a juvenile justice worker. "She was a philanthropist who never made more than $35,000 a year." This has formed his journey as an emerging philanthropist.
Now, Bailey leads the Russell Center for Innovation and Entrepreneurship (RICE), dedicated to empowering Black entrepreneurs and small business owners to create jobs, grow companies, and increase wealth in the community.
Bailey challenged all with the "power of one." He said, "Change the world by starting with the three feet around you. Look around. What do you have now that you can give? How can you be impactful?"
Click here to learn more about Jay Bailey's Lessons Learned from An Entrepreneurial Journey. https://niic.net/wp-content/uploads/dlm_uploads/2022/06/2022-Ideas@Work-Key-Takeaway-Card_5-16-22.pdf
Cutlines:
Picture 1-Dr. Michael Mirro, Nikki Keister, Brett, Keister, 46 Graphics Co-owners and Mirro Founder Award Recipient
Picture 2-Mike Fritsch, NIIC President & CEO, and Cheryl Taylor, the Dr. Daryl Yost Excellence in Philanthropy Award Recipient
Picture 3-Jay Bailey, Dr. Daryl Yost Ideas@Work Keynote Speaker
#  #  #
The NIIC Media Contact: Tammy Allen, SR. Director|Marketing & Communications, tallen@niic.net, 260.407.1731
About The NIIC
525 new products launched, 202 patent applications submitted or granted, and 2,351 jobs created—that is what entrepreneurs have achieved through The NIIC since its inception two decades ago. The NIIC has also connected Northeast Indiana companies to $140.4 million in grants and capital.
The NIIC is a nonprofit, vibrant entrepreneurial community designed to advise entrepreneurs to plan, launch, and grow successful business ventures. The NIIC bolsters innovative companies to move ideas into action. The NIIC is located in a designated U.S. Small Business Administration HUB Zone. In April 2018, Indiana Governor Eric Holcomb designated The Northeast Indiana Innovation Park Campus as an Opportunity Zone through the U.S. Treasury. The International Business Innovation Association (inbia.org) recognized the NIIC as the 2020 Entrepreneur Center of the Year – Mixed-use and awarded it one of the two prestigious industry awards – the 2020 Dinah Adkins Award. TheNIIC.org.