Fort Wayne SCORE Relocates to The NIIC Entrepreneurial Community
Tammy Allen, Director, Marketing & Programs, The NIIC;
Steve Rinehart, Recruitment Committee Chairman, Fort Wayne SCORE
Effective April 30, 2018, Northeast Indiana entrepreneurs can conveniently meet with SCORE, The Northeast Indiana Innovation Center (The NIIC) and Women's Entrepreneurial Opportunity Center (WEOC) all under the same roof. Also, located across the street from The NIIC is Northeast Indiana Small Business Development Center (ISBDC) hosted by Purdue University Fort Wayne. This strategic move leverages proximity of entrepreneurial service providers for the convenience of those starting or growing businesses. It is part of The NIIC's growing Enterprising Communities™ Initiative launched earlier this year.
"I am pleased to see the NIIC is bringing together more resources for the entrepreneur in the Fort Wayne area. Having SCORE co-located with the Women's Business Center (WEOC) will bring even more opportunities for small businesses to gain assistance and their close proximity to the Small Business Development Center (ISBDC) is a win for everyone," said Stacey Poynter, District Director, Indiana District Office, U.S. Small Business Administration.
"We look forward to continuing our collaboration with the Northeast Indiana Innovation Center and the Women's Entrepreneurial Opportunity Center to provide services to entrepreneurs in Northeast Indiana, whether in the start-up phase or an existing business," said Mona Dewart, OD, Acting Chair, Fort Wayne SCORE. "SCORE volunteer mentors utilize their business knowledge and skills to guide entrepreneurs and existing small businesses toward their goals. Last year the Fort Wayne SCORE chapter helped launch 73 new businesses and create 108 non-owner jobs in northeast Indiana."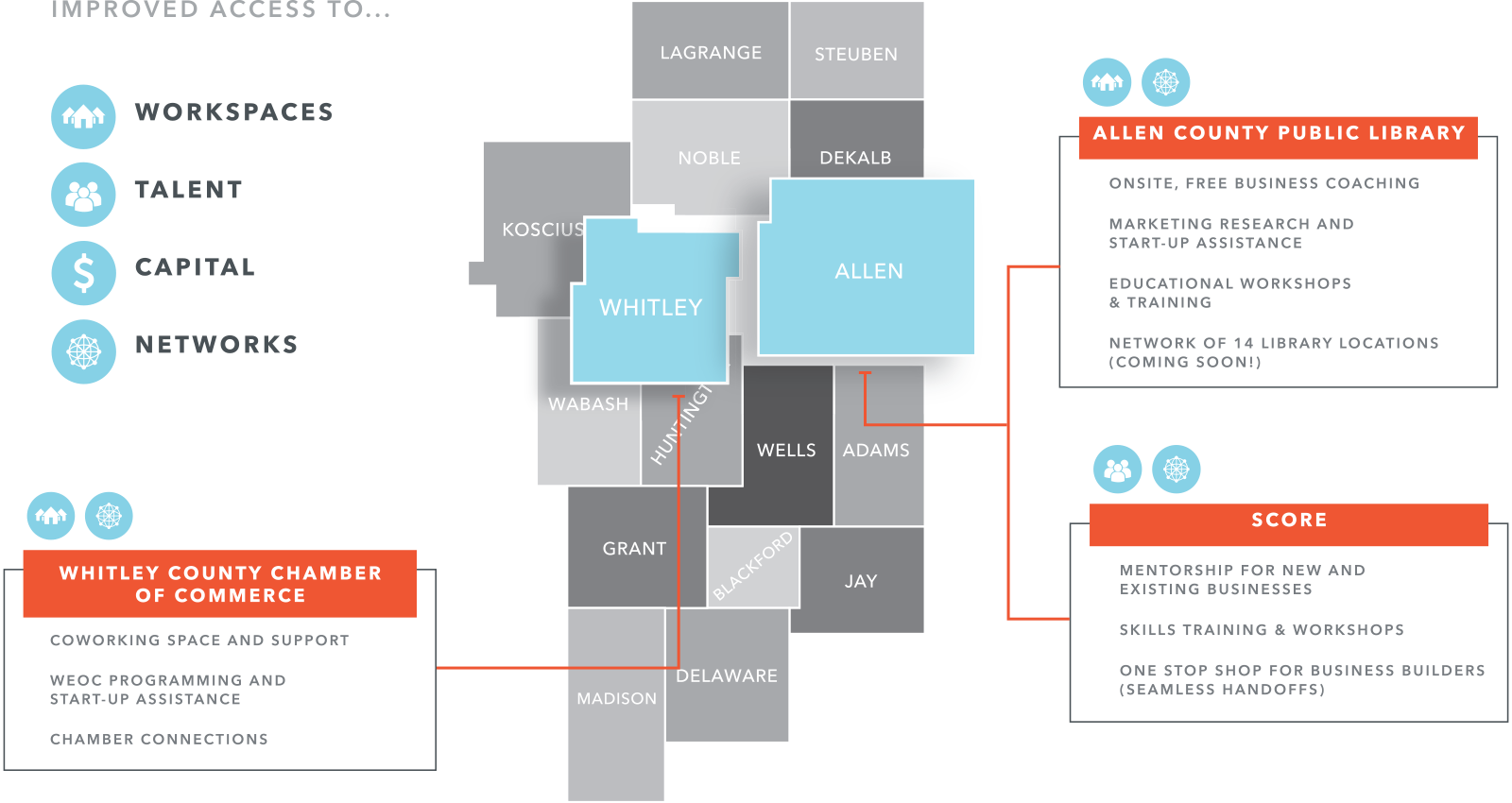 Workshops and training (including a networking component) are strong offerings of SCORE, The NIIC, and WEOC. These are topical to help entrepreneurs in various areas of their businesses. "Last year, we started working more closely with SCORE to provide these training and educational resources. We wanted to eliminate duplicate efforts to be more efficient and to better serve those in our community. This clearly benefits all involved. The workshops and training are offered at no charge to attendees," said Leslee Hill, WEOC Director at The NIIC. The re-location of Fort Wayne SCORE to The NIIC is a natural progression of that collaboration.
The NIIC Enterprising Communities Initiative is a strategic resource and collaboration network powered by the NIIC and WEOC. "It is designed to engage, energize, and empower our community's entrepreneurial spirit. New firm formation rates have been declining, especially in rural America. Also, under-represented entrepreneurs have greater challenges in gaining access to important business-building support services. This initiative leverages our entrepreneurial community's unique assets to create more place-based entrepreneurship opportunities regionally for aspiring entrepreneurs. We are pleased that Whitley County Chamber of Commerce & Visitors Bureau, Allen County Public Library, and now Fort Wayne SCORE are teaming to best serve Northeast Indiana entrepreneurs," stated Karl R. LaPan, President and CEO, The NIIC.
---
About Fort Wayne SCORE—Fort Wayne SCORE provides Northeast Indiana with the professional advice and tools to help businesses thrive. This includes offering free business mentoring, business workshops, and numerous templates and tools to help individuals start or grow a business. SCORE Fort Wayne is one of 10 Indiana chapters.  Fort Wayne is our main location and we have branches in Warsaw, Kendallville, and Angola to serve Northeastern Indiana. The organization recently relocated the downtown Fort Wayne brand to The Northeast Indiana Innovation Center (The NIIC), 3201 Stellhorn Road. Fort Wayne SCORE telephone and email addresses remain unchanged. For more information about SCORE, visit https://fortwayne.score.org/ or call 260-422-2601.
About WEOC—The Women's Entrepreneurial Opportunity Center (WEOC) serves as a resource center and business growth accelerator for women and underserved entrepreneurs in Northeast Indiana. In October 2017, the name changed to Women's Entrepreneurial Opportunity Center to more accurately reflect what WEOC does. WEOC is funded in part through a cooperative agreement with the U.S. Small Business Administration. Host organization The NIIC also provides funding and supplemental and complementary resources for WEOC, an SBA designated Women's Business Center—one of two in Indiana. WEOC serves women at all stages of their business ventures. WEOC responds to the unique needs of women entrepreneurs through business growth coaching, training and entrepreneurial education, connectivity and access to capital. For more information, visit www.inweoc.com.
About The NIIC—The NIIC is a non-profit, vibrant entrepreneurial community. We help business builders and entrepreneurs launch and grow successful business ventures. Formed in 1999 by a consortium of community and government leaders and organizations in 2013, The NIIC was recognized by Entrepreneur magazine as one of the top four under-the-radar incubators in the country. This basically means Entrepreneur magazine, with the help of International Business Incubation Association, picked four U.S. incubators to highlight, and we were one of them. In their words, we "stand out in a state not always perceived as small business friendly." The NIIC is one of the country's only ISO9001: 2008 registered business incubation and acceleration program. https://niic.net/.