Launch Women Pitch Competition Winners Selected
Tammy Y. Allen, Director, Marketing & Programs, The NIIC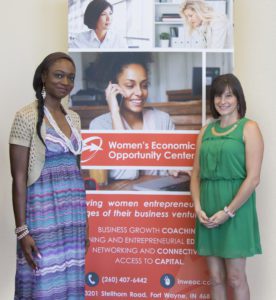 Entrepreneurs Ashley Spurr, Founder, Elevare, and Alice Martin-Page, Founder, Stay-Cation, were selected as winners Saturday, September 23, 2017, of the Women's Economic Opportunity Center (WEOC) Launch Women Pitch Competition at the Northeast Indiana Innovation Center (The NIIC). Each was awarded $5,000 to support their ventures and will be offered further business coaching, education and training in the weeks following the competition.
Elevare's stated business purpose is to give small businesses everywhere the ability to succeed in federal business contracting. "Elevare is honored and excited to be one of two recipients of the award for the inaugural WEOC pitch competition. There is a need in the community to help support women entrepreneurs, and WEOC is supporting that need. We thank them for this opportunity. We will use the funds to put the money back into small businesses to help them succeed in contracting with the federal government. Receiving this award may allow us to launch sooner. When WEOC chose to invest these award funds in Elevare, they chose to invest in small businesses in America," said Spurr.
"Listening and interacting with the other finalists made for an amazing day. The passion these women have for their companies and the knowledge they have about the specific industries they serve is inspiring. It was also great listening to these businesswomen speak and learn about the problems that hinder our community. Listening to Alice Martin-Page with Stay-Cation, we were made aware of the need the community has to support children who need respite care. Listening to Nicole Hayden with Creative Cat, we learned about how the art community needs additional support in getting their creative works of art out to the community. And listening to Melissa Hall speak for Simple Sample Solutions, we learned how modern technology can greatly simplify the life of an interior designer. We wish them all the best in their successes," stated Spurr.
Stay-Cation is in the conceptual stage and is a premier skilled respite venture to offer services for individuals up to 21 years of age. This innovative approach fuses childcare, skilled and non-skilled nursing care and a quality experience in a fun environment. "Being selected as a winner of the pitch competition means the world to me. My family attended the event with me, and my daughters were able to see me pursue my dream and win. From here, I'll be able to be part of helping to put the 'care' back into healthcare through launching Stay-Cation to serve those in our community," stated Martin-Page.
An expert panel of judges comprised of local community leaders, entrepreneurs and a Silicon Valley technology investor deliberated on the pitches of the finalists and selected the two winners. Judges included Eve-Lynn Clarke, University of Saint Francis and WEOC Advisory Council Member; Rosa Wheeler, Wells Fargo and WEOC Advisory Council Member; Danielle Strachman, 1517 Fund and keynote speaker; and Andie Mobley, Red Tree.
Four finalists pitched their ventures at the event that was open to the public with Strachman featured as keynote speaker. "No matter what happens today, keep doing what you're doing. You have the opportunity, the choice to start your business. Keep exercising your voice and exit," stated Strachman in her keynote before the pitch competition began.
To learn more about WEOC's offerings, visit www.inweoc.com.
Cutline: WEOC Launch Women Pitch Competition winners Alice Martin-Page, Founder, Stay-Cation, and Ashley Spurr, Founder, Elevare
About WEOC
The Women's Economic Opportunity Center (WEOC) serves as a resource center and business growth accelerator for women and underserved entrepreneurs in Northeast Indiana. WEOC is funded in part through a cooperative agreement with the U.S. Small Business Administration. Host organization The NIIC also provides funding and supplemental and complementary resources for WEOC, an SBA designated Women's Business Center—one of two in Indiana. WEOC provides timely and comprehensive guidance to women at all stages of idea development and business ventures. WEOC responds to the unique needs of women entrepreneurs through business growth coaching, training and entrepreneurial education, connectivity and access to capital. For more information, visit www.inweoc.com.
About The NIIC
The NIIC is a non-profit, community-based entrepreneurial community. We help business builders and entrepreneurs launch and grow successful business ventures. Formed in 1999 by a consortium of community and government leaders and organizations in 2013, The NIIC was recognized by Entrepreneur magazine as one of the top four under-the-radar incubators in the country. This basically means Entrepreneur magazine, with the help of International Business Incubation Association, picked four U.S. incubators to highlight, and we were one of them. In their words, we "stand out in a state not always perceived as small business friendly." The NIIC is the country's only ISO9001: 2008 registered business incubation and acceleration program. For more information visit: https://niic.net.