Northeast Indiana Business Owners Invited to Brave Leadership Discussions, Based on Dare to Lead Book
Tammy Allen, Director | Marketing & Programs, The NIIC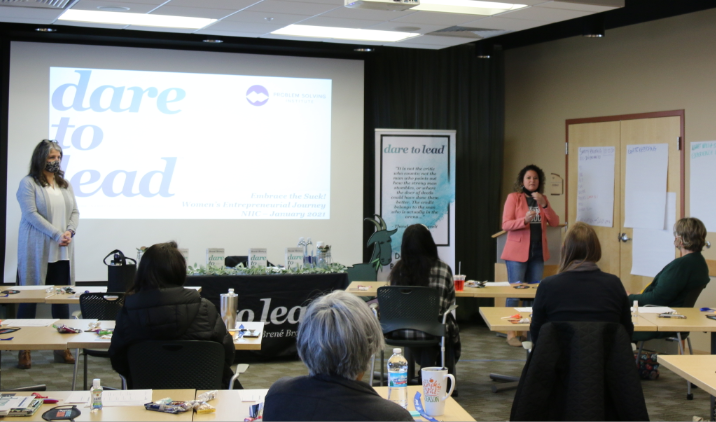 May 13, 2021, Fort Wayne, Ind.— Are you ready to engage in brave leadership discussions? Women's Business Center (WBC) EmPWR Program announces a four-week study of Dare to Lead by Brené Brown. The study will be led by Sarah Lance, Program Manager, WBC EmPWR Program, and presented at The NIIC. Participants are welcome to attend in person or virtually. Register here.
"Earlier this year, we hosted Embrace the Suck | A Woman's Entrepreneurial Journey, a two-day workshop for women business owners. We worked with Sabrina Moon, Certified Dare to Lead™ Facilitator, to customize the training for participants based on Dare to Lead concepts. We limited attendance due to COVID-19 Pandemic, and interest remains high. We value the content of this training and its transformative powers for leaders. That's why we're extending the discussions," said Lance.
Brown is a five-time number-one New York Times bestselling author, including Dare to Lead. She has stated how much the response to her TEDxHouston talk, "The Power of Vulnerability," surprised her by trending on social media, with current viewership estimated at more than 53 million.
Brown writes, "One of the most important findings of my career is that daring leadership is a collection of four skill sets that are 100% teachable, observable, and measurable. It's learning and unlearning that requires brave work, tough conversation, and showing up with your whole heart. Easy? No. Because choosing courage over comfort is not always our default. Worth it? Always. We want to be brave with our lives and our work. It's why we're here."
"If you own a business, lead others, or prepare to lead others, this book discussion is right for you. This book is for anyone who wants to step up and into brave leadership," said Lance. "I encourage all participants to read or listen to the audio version of Dare to Lead and take the Daring Leadership Assessment. The assessment is specific to you and will reveal your leadership opportunities for growth. This will be useful to inform your participation to get the most out of our discussions," said Lance.
The Dare to Lead book discussions begin Wednesday, May 26, 2021. Four weekly discussions will be held from 4:00 to 5:30 p.m. and will also be available via live stream.