Join The NIIC and millions of others in #GivingTuesday global generosity movement on December 1, 2020
Tammy Allen, Director | Marketing & Programs, The NIIC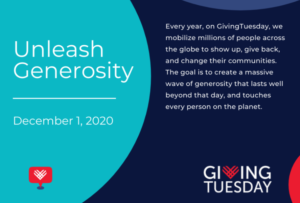 For immediate release
November 24, 2020, Fort Wayne, Ind.— This GivingTuesday, The NIIC encourages generosity by sharing client stories that celebrate the tenacity and resilience of Northeast Indiana business builders. Funds raised during this campaign will support the Reimagine Fund, designed to help underestimated founders located in our region who are facing liquidity problems and want to reset and reimagine their business model during the COVID-19 pandemic and beyond. Please visit niic.net/donate/ to support business builders in our region.
The Reimagine Fund was established through the generosity of campaign gifts to The NIIC during the #GivingTuesdayNow campaign in April 2020. The fund supports business founders located in Northeast Indiana who are looking to reset and reimagine their business models.  "Given the severity of the impact of the pandemic on business closures and the liquidity crisis, the generosity of our community is essential to building successful and sustainable business ventures in our community," stated Karl R. LaPan, President and CEO, The NIIC.
GivingTuesday is a global generosity movement, unleashing people, and organizations' power to transform their communities and their world. GivingTuesday will kick off the generosity season this year by inspiring people to give back on December 1, 2020.
"GivingTuesday inspires people all around the world to embrace their power to drive progress around the causes they care about, not just on one day but throughout the year," said Asha Curran, GivingTuesday's CEO and co-founder. "With country and community leaders, millions of organizations, and countless givers of all kinds, GivingTuesday is creating a shared space where we can see the radical implications of a more generous world."
To support entrepreneurs in Northeast Indiana, visit niic.net/donate. See The NIIC social media (Instagram, Facebook, LinkedIn, YouTube) for more information about The NIIC's Giving Tuesday Campaign.
About The NIIC
499 new products launched, 196 patent applications submitted or granted, and 2,351 jobs created—that is what entrepreneurs have achieved through The NIIC since its inception two decades ago. The NIIC has also connected Northeast Indiana companies to attract $100.4 million in grants and capital.
The NIIC is a non-profit, vibrant entrepreneurial community designed to advise entrepreneurs to plan, launch, and grow successful business ventures. The NIIC bolsters innovative companies to move ideas into action. The NIIC is located in a designated U.S. Small Business Administration HUB Zone. In April 2018, Indiana Governor Eric Holcomb designated The Northeast Indiana Innovation Park Campus as an Opportunity Zone through the U.S. Treasury. The NIIC is the country's only ISO9001:2015 registered business incubation and acceleration program. TheNIIC.org. Click here for The NIIC press kit.
#  #  #