WEOC WBC NAMED 2022 SBA INDIANA WOMEN'S BUSINESS CENTER OF EXCELLENCE
Tammy Allen, SR. Director | Marketing & Communications, The NIIC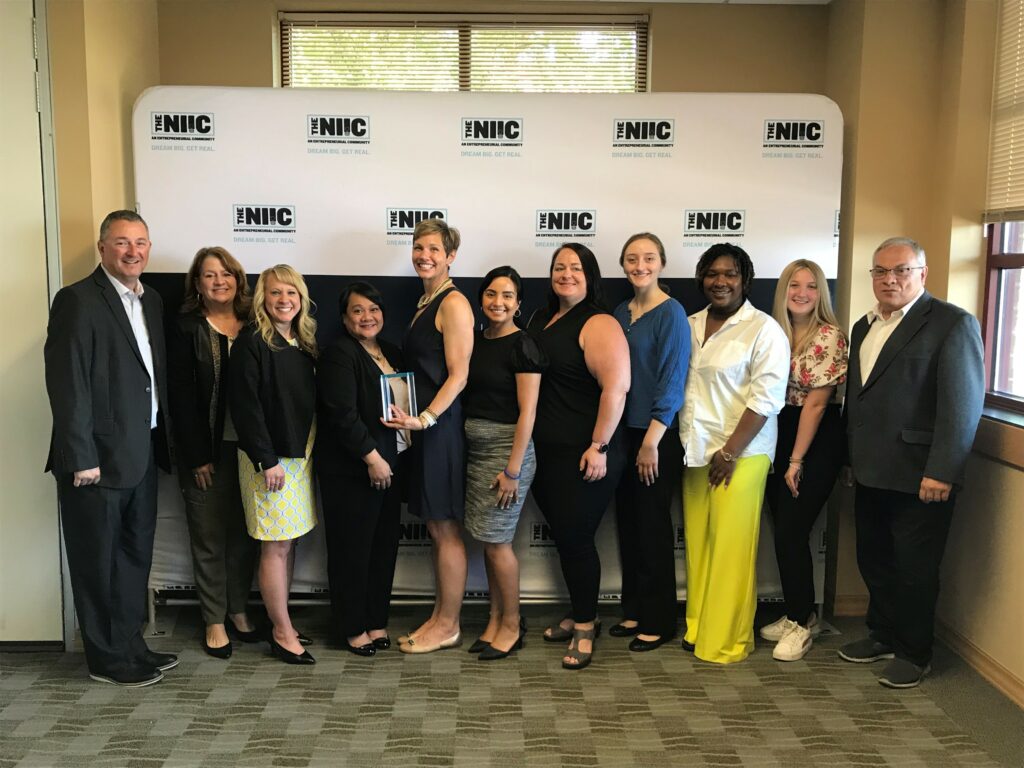 FORT WAYNE, Ind.— WEOC Women's Business Center (WBC) received the 2022 SBA Indiana Women's Business Center of Excellence Award. SBA Great Lakes Regional Administrator Geri Aglipay and SBA Indiana District Director Stacey Poynter presented the award to Leslee Hill, WEOC WBC Director, and The NIIC team.
The award recognizes WEOC WBC as a women's business center that is mission-driven, client-focused, and results-oriented. "As an SBA Regional Administrator, I'm proud that we're giving credit where credit's due. We're spotlighting organizations like WEOC WBC, which serves resilient and resourceful American entrepreneurs who are doing their part to power our nation's historic economic comeback," said Aglipay. She oversees the Great Lakes Region, which includes Indiana, Illinois, Michigan, Minnesota, and Wisconsin.
"We proudly recognize WEOC WBC with this award. The WEOC WBC team provides outstanding support and wrap-around services to small business owners. Small business owners are the backbone of the American economy. 99.4% of the businesses in Indiana are small, and 47.3% are owned by women," said Poynter.
"Entrepreneurship is a tough road to travel. Through innovative, creative, and inspired programming, business coaching, and mentoring, WEOC WBC meets women where they are on their business ownership journeys. WEOC WBC helps them on their paths to success."
Hill accepted the award on behalf of The NIIC team and stated, "Small business owners are at the heart of all we do. We are honored to receive this award, affirming our mission to help female founders to start, scale, and innovate their businesses to help grow our economy."
Cutline: Left to right:  Stacey Poynter, SBA; Tammy Allen and Jami Thomas, The NIIC; Geri Aglipay, SBA; Leslee Hill, Rosalina Perez, Rhonda Ladig, Maddy Dahlgren, Stephanie Taylor, Anna Heck, Mike Fritsch, The NIIC
# # #
About WEOC Women's Business Center
WEOC WBC clients have benefited from 7,945 total hours of training, 7,899 total hours counseled, $706,500 total capital access infusion. WEOC WBC at The NIIC serves Northeast Indiana women at all stages of their business ventures. We respond to women entrepreneurs' unique needs through business growth coaching, training, entrepreneurial education, connectivity, and access to capital.
WEOC WBC is an SBA-designated Women's Business Center—one of two in Indiana—and more than 100 nationwide. WEOC WBC is funded in part through a cooperative agreement with the U.S. Small Business Administration. The NIIC is the host organization and provides supplemental funding and complementary resources. For more information, visit www.weocwbc.net.
About The NIIC
The NIIC bolsters innovative companies to move ideas into action. 525 new products launched, 202 patent applications submitted or granted, and 2,351 jobs created—that is what entrepreneurs have achieved through The NIIC since it started 20+ years ago. The NIIC has also connected Northeast Indiana companies to $140.4 million in grants and capital.
The NIIC is a nonprofit, vibrant entrepreneurial community designed to advise entrepreneurs to plan, launch, and grow successful business ventures. The NIIC is located in a designated U.S. Small Business Administration HUB Zone. In April 2018, Indiana Governor Eric Holcomb designated The Northeast Indiana Innovation Park Campus as an Opportunity Zone through the U.S. Treasury. The International Business Innovation Association (inbia.org) recognized the NIIC as the 2020 Entrepreneur Center of the Year – Mixed-use and awarded it one of the two prestigious industry awards – the 2020 Dinah Adkins Award. TheNIIC.org.