West Michigan Design is Steeped in Research and Strategy
Laura Bergells | The Lakeshore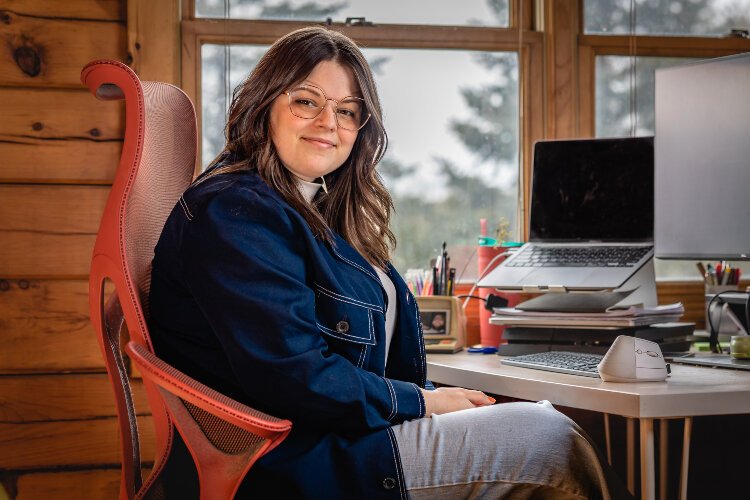 Emily Carbonell-Ferguson describes her design career as a lily pad hop. From her home office in Cedar Springs, she works as an experience designer for BetterUp. She's also served as a digital project manager in digital agencies and a studio manager at an ad agency.
And with her freelance work at Emily Makes Magic, she does a combination of user experience strategy, brand strategy and research.
"The title will be all over the place, depending on where I'm landing and the maturity of the discipline itself," she says.
Her design work all has one thing in common. It's steeped in research like strong tea.
"With experience design, very often the initial goal is something big and abstract. Like, 'we want to increase engagement.' Okay, see, the sky's the limit on that. And you really could focus in any direction," she says.
Carbonell-Ferguson's Michigan roots help her describe the design research process. She likens it to starting with a hike before going on a hunt.
"The 'hike' phase is very inspired by my natural surroundings and the character of being from the Midwest," she says.
In the hike phase, Carbonell-Ferguson says she feels an itch in her bones to be curious. She maps out a project's surroundings slowly to get to know the landscape.
"You have to understand what are the patterns, what are the rhythms?" she says. "What are the feelings, what are people trying to do? What are they actually doing instead?"
When she's more familiar with the environment, Carbonell-Ferguson picks up the pace of her hike.
"That's when ambient research becomes pointed," she says. "And that's when qualitative and quantitative studies come into play."
This might mean speaking directly to users. She'll note broader patterns, like watching the change of seasons.
"And then there's a moment when the hike becomes a hunt," Carbonell-Ferguson says. "I begin to see the future that doesn't exist yet. And I begin to have these hypotheses."
At that point, the line between research and strategy can get blurred.
"I might put together an actual prototyped idea and use that to hone in my strategy," she says.
Deliberate research gives Carbonell-Ferguson familiarity with the environment. It lets her and her teams know which strategy to pursue.
"I could definitely — maybe every designer could — spend their time hiking forever. Right? Like, you'll never feel like you understand every little leaf and every little stone and every little thing that could inform your strategy," she says.
Great design has deep roots in research and strategy
"Design without strategy is just decoration," says Julie Lang. "I tell clients that."
Lang is a partner and creative director at This is Worthwhile, a creative partnership that focuses on value-driven brands. These are brands who take a stand on equity, justice, environmental and other issues. Lang and her partner, Beth Taylor, help value-driven brands express themselves authentically around their missions.
"It's out there in the culture where people are expecting brands to do more," says Lang. "It's not just about making stuff. It's about making a difference."
From her rural home office near Hastings, Lang works with well-known brands such as Merrell and Sawyer as well as smaller organizations such as The NIIC and Grand Rapids-based Woosah. Historically, Lang says businesses might feel uncomfortable bringing a more values-based voice forward.
"You don't know when you're going to step on toes," says Lang. "But just like you would in any kind of relationship, you stand up, you take responsibility for it, and you try to understand where somebody else is coming from."
To find out, Lang and her partner dive into research.
"What's happening out in the world? What are the trends and the insights?" asks Lang.
The answers to these questions help Lang form a strategy. The strategy, then, becomes a part of the design. Beyond strategy and research, the West Michigan design heritage is also embedded in Lang's creative work.
"I was fortunate enough to work for years on Herman Miller projects and in the presence of their creative director, Steve Frykholm," says Lang. "Many of these projects were informed by their history – digging deep into their 'why.' That was such a great primer on the value of design in business and formed how I viewed this region. They led the local furniture industry in bringing designers from across the country and around the world to West Michigan."
West Michigan is more open to design research
As president and CEO of SPARK Business Works, Bob Armbrister's design sensibilities are also rooted in research.
With offices in Kalamazoo, Grand Rapids and Texas, SPARK Business Works designs custom technology solutions. They specialize in software strategy, custom software development, digital marketing and website services.
Armbrister's core clients are Midwestern. Armbrister is attracted to his clients' openness and vulnerability in the research and strategy development processes.
"We typically will build a lot of business tools," he says. "You know, we must meet with those end users."
Armbrister finds that his Midwestern clients are typically more open to the depth of research great design requires.
"What we've seen on the coast and in other areas, it's like, 'no, no, no, we'll tell you what we want built. You don't need to talk to our customers about it,' or 'you don't need to talk to our team about it,'" says Armbrister.
"Whereas in West Michigan, we've seen people say 'Yes, yeah, come on to our shop floor. Talk to our end users.' Or go 'Yes. Here's some clients to talk to.' It's just a little more open."
Like Carbonell-Ferguson and Lang, Armbrister says research is essential to great design. Designers need to talk to end users, and end users need to feel like their opinions matter.
"That's where you really pull out the real good stuff," Armbrister says. "Then you can deliver something that does align."
As much as Armbrister appreciates the West Michigan area, he and his team travel outside of the area for conferences. He'd like to see more conferences based in West Michigan.
"We should have more of that here," he says. "And I think we're a little more humble than we probably should be. We probably should toot our horn a little more. But I think that's just West Michigan."
Like Armbrister, Lang would like to see West Michigan do more to intentionally own its design heritage.
"There's all these big brains here," she says. "It would be so great to be able to share more of that here.  We could showcase it and be something like the Cannes of design."