Four Ways to Mentally Prepare to Make Big Decisions
Leslee Hill, Director, WEOC WBC at The NIIC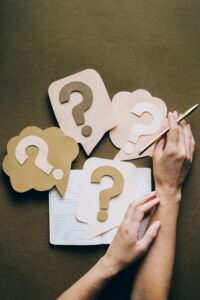 You deserve to go after big things for yourself, your family, and your business. There's no time like NOW to unleash your potential and inspire others. So let's warm up, take a deep breath, and prepare to become the best version of you that you can be.
Mentally prepare yourself.
The first step toward attaining your goals is to prepare yourself mentally. If you genuinely believe you are meant for great things, you can weather any storm and survive anything life throws at you.
Everything starts with the correct mindset. If you win your mind, you will win your reality.
Acknowledge the struggle is real.
Leadership, strength, and power are the main languages of entrepreneurship. Yet, vulnerability and isolation are inevitable. Everyone who has set out on this road less traveled has dealt with these challenges.
There is no reason to be embarrassed if you are struggling.
Sometimes no matter how determined and prepared you are, circumstances can get the best of you. I am no stranger to burnout. As a former business owner, mine was brought on by juggling a startup, a career, and a family. In the past, securing funding and a steady list of clients took a negative toll on my mental health.
However, I know I am not alone. You are not alone.
A study by the National Institute of Mental Health compared entrepreneurs to workers in other trades. Entrepreneurs are disproportionately affected by anxiety, depression, and isolation. Business owners are more prone to substance use as a coping mechanism with a higher susceptibility to mental illness. The onset of the pandemic in 2020 resulted in an increase in alcohol and drug use among Americans across many demographics.
Access Tools to move forward.
The WEOC Women's Business Center (WBC) and fellow entrepreneurial service organization SCORE Northeast Indiana realize to combat this trend, we need to foster business environments and events encouraging empathy, connections, and support for all struggling entrepreneurs—especially women.
WEOC WBC and the SCORE Northeast Indiana lined up two much-needed and timely workshops to facilitate ways we can better look out for each other.
You To Full Potential was provided through Lori Zacharias, owner of U2FP, in early January. Lori led us through a series of exercises to help us discover how to travel through our lives better than we had before. We got focused on the life we want to live, what route we want to take, and how we'll keep ourselves motivated along the way. We found out how to create more energy, increase our mental sharpness, feel better in the bodies we have while enriching our spiritual life. Most attendees joined in a 7-day challenge to help us extend what we'd learn into our daily routines. Contact Lori for more information about this training.
Well2Work: Being Proactive About Addictions and Mental Health offered insight into risk factors that make mental health or addiction challenges more likely, warning signs, and resources for when you or someone you work with needs help. The Mental Health America of Northeast Indiana taught us to recognize and support ourselves and/or our employees struggling with substance dependency.
With so much at stake for entrepreneurs, it is essential to gain deeper knowledge on preventing and overcoming mental health and addiction.
Embrace the struggle as part of your success. Remember, these challenges are only a part of your success story. There is so much beauty waiting for you on the other side.
No matter what season you are in right now—starting, struggling, or succeeding, we want you to know that we see you battling and winning. This year will be one for the books, one filled with growth and victory—I believe in you! How much you believe in yourself matters more.
I am optimistic that all that we have planned for 2022 will help you find new strength to tap into the greatness waiting to be unleashed.
Visit the WEOCWBC.Net for details.