From Burn-Out to Business Opportunity: Lessons from the original Burned-In Teacher
Tammy Allen, Director | Marketing & Programs, The NIIC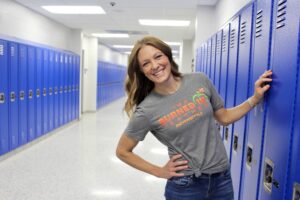 When life gives you lemons, make lemonade. When your career brings you burn-out, build a business!
That was the lesson offered by Amber Harper, educator, author, and founder of the Burned-In Teacher. Speaking at The NIIC Innovation Leadership Showcase Breakfast, Amber shared insights from her entrepreneurial journey and explained how she turned career burn-out into a business opportunity.
Leslee Hill, WEOC Women's Business Center (WBC) Director, led a fireside chat discussion with Amber to explore how innovative thinking can transform a common problem into an economic opportunity.
The path to burn-out
"I was a teacher for 12 years," Amber explained. "I started my career right out of college. At the time, I felt lucky to get a job." She taught for the Warsaw, West Noble, and East Noble school systems. Along the way, she began to feel what many teachers experience — burn-out.
"Most teachers are overachievers, and we all love a gold star when we work so hard. But teaching doesn't always offer the recognition that we sometimes feel we deserve. Students, parents, and administrators expect a lot. Nights and weekends don't offer much of a break. When Sundays become scary, and Mondays become manic, that's when people start asking, 'Am I burned out?'"
Amber cited research describing the high attrition rate among teachers. In the first five years of teaching, about 50% of teachers will leave the classroom.  After that, the turnover rate continues at about 25%.
"The COVID pandemic added a lot of stress, and I anticipate that these numbers will continue to go up," Amber said.
Inwardly, many teachers fear they are not good enough, Amber explained.  "They may feel that they're not doing enough, or that they're doing too much and not enough at the same time," she said.
The search for solutions
Experiencing her own self-doubt, Amber began to search for solutions.  For a time, she found new confidence and enthusiasm for her career by acquiring a new area of expertise. Long interested in educational technology, Amber undertook specialized training and became a Google Certified Instructor.  Helping others learn to use technology in the classroom — and being paid for it — gave Amber a renewed sense of her professional value.
"I started leading training for Region 8. And I wanted more of it. Whatever I could do to serve more teachers and help them to be more successful in the classroom, I wanted to do it," she said.
On the drive home from a Google training session, the idea hit her.
"What if burned-in teacher became a practical way of helping other teachers? What if burned-in teacher became a systematic process for recovering from burn-out?  I went home and registered the domain name right away."
BURNED-IN 8-Step Process
Thinking through her career stress and the experiences shared by other teachers, Amber developed an eight-step process with the acronym BURNED-IN.  She shared her insights on her blog on her website and gained an enthusiastic following. Her blog grew into a podcast and a Facebook community.  In 2020, she published her first book, Hacking Teacher Burnout: 8 Steps to Go from Isolated to Empowered So You Can Overcome Any Challenge.
Nationally Recognized Leader
Today, Amber is a nationally recognized speaker and teacher burn-out coach. Through her Burned-In Teacher University, she teaches other educators to use burnout as an opportunity for growth. Summer courses show teachers how to experience a more fulfilling career and happier life — on their own terms.
As a practitioner of her own 8-step BURNED-IN process, Amber has found new satisfaction with the teaching profession. She teaches kindergarten in addition to running her BURNED-IN business. Her days are full yet rewarding.
WEOC WBC Support
While building her BURNED-IN brand, blog, and consulting agency, Amber found practical advice and emotional support at the WEOC WBC.
"A neighbor introduced me to Leslee (Hill) and WEOC," Amber said. "It was so helpful to have a coach and a community that understood what I was trying to do."
"I started in the accelerator program with five other women. We met weekly, which was amazing — the highlight of my week. These beautiful people were all starting very different businesses, but we could speak a common language with one another. We could ask questions and share experiences. They saw potential in me that I didn't recognize myself. It was the community that I needed — and that I now strive to provide to others."
"I also participated in one-on-one business coaching. I signed up for workshops and classes provided at The NIIC. It was all extremely valuable. The NIIC community empowered me to change my perspective and emboldened me to take steps that I would never have taken before."
BURNED IN – Beyond the Classroom
Amber focuses on balancing her teaching career with her burn-out coaching business. She plans to return to the classroom full time later this year. But she envisions a day when her BURNED-IN process is used beyond the classroom.
"Burn-out is a common problem across many professions. I've had nurses and healthcare providers ask if the BURNED-IN process could be adapted for healthcare professions. Business leaders of all kinds have asked me if this would work for their teams. The answer is yes! There is practical help here for many industries. We can all learn from one another."
Amber Harper's book, Hacking Teacher Burnout: 8 Steps to Go from Isolated to Empowered So You Can Overcome Any Challenge, is available on Amazon.  Her Burned-in Teacher podcast is available at https://www.burnedinteacher.com.