Prior Planning Prevents Poor Performance. How's your small business preparedness plan?
Tammy Allen, Director | Marketing & Programs, The NIIC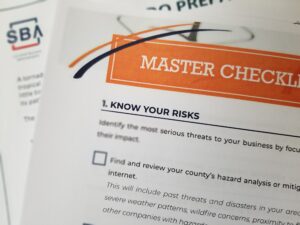 Do you know the U.S. Small Business Administration (SBA) helps small businesses to recover from a declared disaster? Like a tornado, flood, ice storm—and, yes, even a pandemic.
If you own a small business and have a plan, you are ahead of the game. Now may be a good time to review and tweak it.
Do you need to create a preparedness plan? The following information provides a good base for that.
Our colleague Laura Schafsnitz, Public Affairs Specialist, U.S. Small Business Administration, led a webinar to help small businesses be prepared. She provided a lot of expert advice for small businesses. Check out the on-demand webinar for information that best fits your company's needs.
Disasters take many forms, and the financial cost of rebuilding after a disaster can be overwhelming. Be prepared for emergencies. You will be in a better position to recover and continue operations if disaster strikes. Click here for the SBA Guide to Manage Your Business—Prepare for Emergencies.
Schafsnitz offers this family-friendly version of the 6 P's she learned during her time serving in the U.S. Army. We thank her and are grateful for her service.
Prior
Planning
Prevents
Poor
Performance.
10 Things to Know to Write Your Preparedness Plan
Check out the Insurance Institute for Business & Home Safety (IBHS) toolkit, which provides a checklist for each of the following topics.
Your insurance—Know your policies, coverage, deductibles for specific scenarios. Do you have flood insurance—typically not included in a standard business policy? Review coverage annually.
Your risks—Identify them. What if your supply chain goes down—like happened during COVID-19? The pandemic forced manufacturers to identify a plan for tier one and tier two suppliers. What if you lose the ability to connect online and have an e-commerce based business?
Your operations—Work on our business to have full knowledge of processes for your business. Write them and ensure they are accessible. This will empower you and your team to keep your business going.
Your employees. Know their contact information and how to reach them in case of emergency. How will you keep them informed of shutdowns, plans for re-opening, working in the interim, etc.? Be aware of their struggles during this time.
Your equipment. Know what you have and what you will need to stay operational during a disaster. Regularly photograph and video record your facility and its contents for possible insurance claims. Keep your warranties and maintenance receipts organized for reference. Know who you purchased equipment from and who provides the maintenance.
Know your customers, contacts, suppliers, and vendors. Have a pathway to contact them during an emergency. What are their operations plans in case of an emergency? Know your customers and keep them informed.
Know your IT. It's more than your online presence. It may be your point of sales system, network operations to run your equipment and machinery. Know who maintains your IT and runs the updates, if your IT is up to date, and how you do it.
Know your finances. How are they set up? SBA recommends an emergency backup of working capital for 6-12 months to keep your business operational. What bill is due when each month? When is payroll due, and how does it get done? If there's a break in a process, you have to be able to fix it.
Know your plan and test it. Yes, it is time-consuming. If you ever need to activate your plan, you will be relieved to have that practice run under your belt.
Know where to go for help. Know how to get ahold of emergency management teams in your area. National Weather Service, government entities (local, county, state, national). Follow them on social media for updates. Know who's who and where to go for help.
RESOURCES
The following resources include templates, checklists, tools to help you prepare and write your plan and keep it up-to-date (suggested annually).
Disaster Planning – Insurance Institute for Business & Home Safety (IBHS) master checklist and complete toolkit to "prepare your business for the unexpected."
Plan Ahead for Disasters – FEMA
Preparing for Disaster (Taxpayers and Businesses)—Internal Revenue Service
Prepare for Emergencies—SBA