Hispanic Women in Business
Leslee Hill, Director, WEOC WBC at The NIIC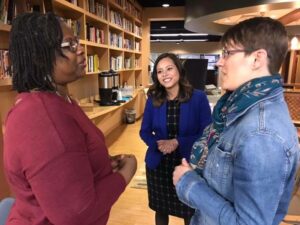 There are over 1.9 million Hispanic women-owned firms in the United States that are growing fast in number, employment, and revenue. With exceptional grit, talent, and ingenuity, Hispanic women entrepreneurs are not only building lives full of purpose, but they are also becoming unstoppable engines of economic growth.
October is National Hispanic Heritage Month. It is a perfect time for us to celebrate and highlight Hispanic women together with individuals of different ethnicities, to celebrate their heritage and acknowledge their successes and impact.
From Hollywood celebrities balancing careers while running their companies, to those who started from scratch, and those who climbed the corporate ladder, there are countless Hispanic women entrepreneurs who will inspire you to dream bigger and never settle.
Hispanic Celebrity Entrepreneurs
While they are most renowned for their performances on the big screen, these Latina celebrity entrepreneurs are building empires, and are paving the way for others to follow.
At the age of 52, Jennifer Lopez is one of America's wealthiest self-made women. According to Forbes, she has an estimated net worth of more than $150 million. Since the 1980s, she has built her career as a successful actress and musician—and now, as a multi-business industry owner, as well.
Tapping into her roots and talents as a Puerto Rican woman from Bronx, New York, Jennifer has built an empire including endorsement deals with luxury design house Coach and shoe retailer DSW. She has also launched Limitless Labs, a philanthropic arm on a mission to support Latin entrepreneurs, and just this year, she founded a new line of beauty products called JLO Beauty.
JLo shared that she's always "kind of had an entrepreneurial spirit" and loves talking about "the idea that you can start at the bottom and just with grit and perseverance, build a life that has purpose and impact, and meet your own personal definition of success."
Salma Hayek, a well-known actress, producer, and model also became a business owner in 2008. She teamed up with long-time friend Eric Helms and created two wellness companies—Cooler Cleanse, a juice delivery company producing organic juices to support weight loss efforts and cleansing, and Blend It Yourself, a subscription service that delivers frozen mixes of smoothies made of organic and all-natural ingredients.
Movie star Jessica Alba began her startup in 2011 and it has since turned into a booming empire. After becoming a new mom, providing natural baby products for her child became a challenge—so she decided to address the problem herself. Together with business partners Sean Kane, Brian Lee, and Christopher Gavigan, Jessica founded The Honest Company, which aims to create eco-friendly baby and beauty products for families.
She has shared that the process of building the business was not easy. However, the setbacks faced by the company fueled it even more, and Jessica remained dedicated to her vision. One of the most valuable lessons that can help shape a businessperson is learning from their mistakes, and this is one truth that many business builders know from first-hand experience.
Fort Wayne's Pride
Inspirational Latina women also abound here in Summit City.
Nikki Quintana, the new Executive Director of the Fort Wayne Metropolitan Human Relations Commission, is a champion of promoting and elevating businesses. She is a Fort Wayne native, and a graduate of the University of Saint Francis and Indiana University McKinney School of Law.
Before being named as Executive Director, she worked at the Metro as an investigator then as a staff attorney, where she "played an integral role in reducing case age, improving the investigative process, and promoting the agency through outreach and education for the citizens and businesses of Fort Wayne."
Nikki is also a member of the WEOC Women's Business Center (WBC) Advisory Council and a volunteer mentor for young women through the Virtuous Viking program.
Resources for Starting Your Business
Small businesses are important. U.S. Small Business Administrator Isabella Guzman (the highest-ranking Latina in U. S. President Joe Biden's Administration) reminds us: "Entrepreneurship is the pathway to building wealth, not only for families but for communities."
If you are a woman thinking, "Should I start my own business? Should I do it?" This is a sign for you to go for it.
We're not only celebrating Hispanic women who are already "there." This month is for you—the blossoming woman filled with so much potential, the woman in the process of becoming.
We are rooting for you.
If you lack resources to begin, the Small Business Administration (SBA) provides support such as needed capital and opportunities especially for women and people of color, every month of the year. Aside from this, the SBA also provides easily accessible online courses that can be taken in Spanish.
The NIIC is one of the country's top entrepreneurial communities and serves businesses at every stage of their company, through coaching and workshops, among other services. The NIIC website includes tools, programs, and services to help your business thrive and have a competitive edge. There's a button at the top right of the website to select the language of choice.
Happy Hispanic Heritage Month! Here's to shining a light on women, Latinas, and being limitless.