Honoring an Innovative Philanthropist, Who Links Philanthropy and Social Entrepreneurship
Tammy Allen, SR. Director | Marketing & Communications, The NIIC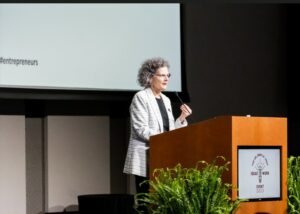 Many in the Northeast Indiana region have the privilege of knowing Cheryl Taylor through her leadership of innovative philanthropy in Allen County. For the past two decades, she was President of Foellinger Foundation, a private, charitable foundation in Fort Wayne, Indiana, with assets of $200M. She is also the Founder and Owner of Taylor Leadership Coaching & Consulting. The NIIC recently honored her with the Dr. Daryl Yost Excellence in Philanthropy Award.
Although her acceptance remarks were brief, in typical Cheryl fashion, she inspired and packed a lot into them.
Philanthropy defined
"I was one of the thousands of individuals to have known Daryl. He had a handshake you'd never forget. Daryl was a man of faith, family, and philanthropy," she said.
She defines philanthropy as what we all do with our voluntary actions.
What do we do with our finances?

What do we do with our time?

What do we do with our advocacy or influence?
Philanthropy and Social Entrepreneurship
"Entrepreneurship is creativity in the development of goods and services. It's about better ways to live the two concepts in effect in the nonprofit world. Where there is more and more demand for social entrepreneurship to address society's challenges."
Reflecting on her time leading Foellinger Foundation, she said, "I was fortunate to be affiliated with an organization that understood the benefit of linking philanthropy to entrepreneurship."
One initiative Cheryl spearheaded was the Helene Foellinger Leadership Development Initiative, a 12-month Leadership Lab Program. She also guided the Barbara Burt Innovative Leader Fund, which pours into leadership development for nonprofit board members.
I've benefited from both programs and am grateful for Cheryl's vision and leadership and Foellinger Foundation's dedication to nonprofit organizations in our community.
Hope for the future
Her concluding remarks affirmed and inspired. "You all give me hope that in the next decade, we'll see an ever-greater partnership between you, the entrepreneurs, and the nonprofits who so desperately need your help in order to make our home a better place," said Taylor.
I suspect that Daryl Host, a man who was committed to mentorship and to innovation and the value of those things in our community, would consider that success.
Congratulations, Cheryl!