Transformative Entrepreneurship Key to Serving Minority Business Owners
Tammy Allen, SR. Director | Marketing & Communications, The NIIC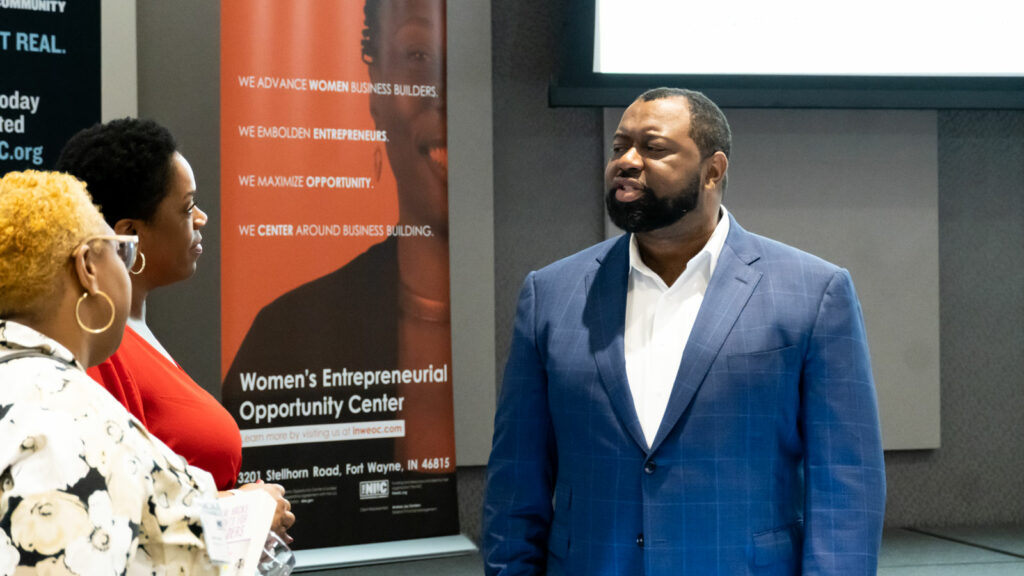 Do you know that feeling when several days after attending a conference, you still think on what you heard? Many individuals expressed this about our NIIC Ideas@Work Event. Keynote Speaker Jay Bailey, entrepreneur, emerging philanthropist, and President and CEO of the Russell Center for Innovation and Entrepreneurship (RICE), inspired and challenged.
He was honest about his entrepreneurial journey. That vulnerability connected with us. Bailey said, "Entrepreneurship has always been the link in my life. I have a really incredible story, guys. It's been one of a lot of trials. I'm the kid that started his first business at (age) 12. I bought my first house at 19. I made my first $1 million by the time I was 23. But, because I didn't have good money role models, I went from living in a 10,000 square foot home to literally being homeless, living in a nine-by-nine storage unit at 28."
He continued, "Unfortunately, my life has had a really long line of losses, but I'm a firm believer that loss creates leaders. If you've not been on your back, I doubt if you've ever really seen the sun." He shared about those losses and his epiphany that led back to the teachings of his mother, who was a juvenile justice worker. "She was a philanthropist who never made more than $35,000 a year." His focus significantly shifted.
Now, Bailey leads the Russell Center for Innovation and Entrepreneurship (RICE), dedicated to empowering Black entrepreneurs and small business owners to create jobs, grow companies, and increase wealth in the community.
"Entrepreneurs' greatest need isn't capital. It's community."
A neighborhood barber introduced Bailey to the idea of business ownership. Bailey said the revelation was transformational. As an eleven-year-old boy riding his bike to the local barber shop, he saw a black-on-black convertible Mustang GT 5.0 parked illegally in front of the barbershop. "It was the coldest thing you'd ever seen. I threw my bike down in an area of town you don't leave anything unlocked. I run in the barbershop full speed and scream out, 'Whose car is that?' My barber's cutting somebody's hair, and he just kind of gives me the nod. That's the universal brother symbol for that's me." Bailey shared that he could only conceptualize how he got the car and said, "John (the barber), I didn't know you were a dope boy. He screamed at me."
So, the conversation continued.
Barber:  Turn around and count how many chairs you see in the shop.
Bailey: I don't know, maybe 10?
Barber: Well, each one of these barbers pays me $50 a week to cut hair in my shop. Do the math, Jay. You're smart. Hold on, bro'. Before you finish, I have two more shops just like this. Finish the math.
"So, Lil' Jay Bailey's like zero, zero, zero, comma, zero."
Barber: Son, I'm an entrepreneur. I own this business. And I own the two shopping malls that my other businesses are in. And what you need to do is find you something you love and go make money doing it.
"Never in my life," he said, "had anybody ever told me what I had always been: an entrepreneur. Once I discovered that concept, it fundamentally changed my life."
Bailey said the bike ride home continued that transformation. "Who owns (the local) McDonald's? Who owns that tire shop? Mom and Dad, we own our own house? We do? Self-esteem, self-confidence goes up. Now I want to fight you when you come through our grass because this is our grass. We own this grass. That lesson led me to open my first business," said Bailey.
Essentially, the Russell Center has created a community that says, "That's going to work. We support you. It's okay. Let's create a safe space for you to fail and fly." It's a concept that's working in Atlanta, and it can work in Northeast Indiana, too, all thanks to the transformative power of entrepreneurship. 
THE CHALLENGE for all of us. Bailey challenged all with the "power of one." He said, "Change the world by starting with the three feet around you. Look around. What do you have now that you can give? How can you be impactful?"
Click here to learn more about Jay Bailey's Lessons Learned from An Entrepreneurial Journey.