Allied Payment Network Adds Jeffrey Harper as Chief Revenue Officer
Michele Rehm, Director of Marketing for Allied Payment Network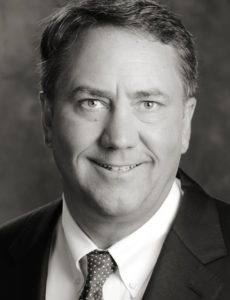 Company Taps Financial Industry Veteran to Accelerate Growth, Client and Consumer Engagement
FORT WAYNE, Ind.–(May 14, 2019)–Allied Payment Network, the industry's most progressive provider of online and mobile bill payment services to banks and credit unions, announced today the addition of Jeffrey A. Harper as chief revenue officer, effective May 6, 2019. In his new role, Harper will focus on growing the company's market share and solidifying its reputation for technology innovation, thought leadership and client support. He reports to Allied president, Kelli Schultz.
Harper is a 28-year financial industry veteran who has spent much of his career developing successful teams; identifying and managing strategic alliances; sales; marketing; accounting and finance. He has forged profitable relationships with many of the nation's top-tier and community financial institutions, trade associations and suppliers to the banking industry. At Allied, Harper will expand the company's channel partner network and advise on ways to create tangible differentiation in the way the company services its clients and end users.
"Jeff's proven track record coupled with his powerful network of industry contacts will be invaluable to Allied as we continue to expand our footprint and impact on the payment industry," said Schultz. "We are very fortunate to have someone of his caliber join our talented group. Jeff is a fantastic fit within our leadership team. He exhibits the sort of values and integrity that we at Allied pride ourselves on and use to fuel the delivery of industry-leading products with second-to-none service levels. I look forward to the immediate impact he will have on our growth strategy."
Harper joins Allied from Ft. Lauderdale, Fla.-based Velocity Solutions, LLC, which acquired his prior company, BSG Financial Group of Louisville, Ky. In his role as president of BSG Financial, he led the charge to double the company's revenues and facilitate the successful sale of the business. Prior to BSG Financial, Harper was executive vice president for Strategic Resource Management; commercial lender for PNC Bank and SunTrust Bank; and staff accountant for PWC (formerly Coopers & Lybrand). Harper serves on the board of the Association for Financial Technology (AFT), and has been a member of various banking associations, including the Financial Managers Society. He is also an active member in numerous non-profit associations in Louisville and serves on the Executive Advisory Council for the College of Business at James Madison University, where he received his bachelor's degree in accounting.
About Allied Payment Network
Allied Payment Network is an industry-leading provider of emerging bill pay technologies to the financial services and retail industries. With its award-winning solution, PicturePay®, Allied pioneered the first mobile photo bill pay application for smartphones and has brought the same level of innovation to its full suite of online and mobile bill pay channels, including solutions for Internet bill pay, small business payments, over-the-counter payments and online loan payments, among others. Allied's goal is to make the bill paying process easier and more convenient for consumers, and more efficient and cost effective for the financial institutions who serve them. For more information, visit www.AlliedPayment.com.
CONTACT: Michele Rehm, Director of Marketing for Allied Payment Network, michele.rehm@alliedpayment.com, telephone 502.445.1145