Business Startups and Growth Companies Honored at Entrepreneurial Event
Tammy Y. Allen, Director, Marketing & Programs, The NIIC
Keynote Speaker Santiago Jaramillo Inspires with Purpose
April 25, 2019, Fort Wayne, Ind.—"Stuck, overwhelmed, astray, scared, wandering, hesitant, paralyzed, unmotivated, grasping" Women's Entrepreneurial Opportunity Center (WEOC) Launch Women Business Builder Program participants used these words to describe how it feels to start a business.
Recently at The NIIC's Ideas@Work Signature Event, three different awards were presented to shine a light on business builders who are creating jobs, securing investment, finding customers, hiring employees and doing the really difficult work of starting and growing sustainable ventures in Northeast Indiana. This was the sixth year for the annual entrepreneurial community event. This event spotlights business builders, celebrates entrepreneurial success and recognizes the important role entrepreneurial support organizations like the NIIC and WEOC play in creating a climate and culture of entrepreneurship in Northeast Indiana.
Ten women from WEOC Launch Women Business Builder Program cohorts two and three were recognized for progress they've made through the program. The program began January 2018 to help women in tech accelerate the launch and growth of their businesses. Two cohorts are accepted into the program each year. "These women are dedicated to building their businesses and providing support to those in their Launch Women Business Builder cohort, while also running a family, working full-time jobs, healing the sick, you name it.  We want them to know: we see you battling and winning," said Leslee Hill, Director, WEOC at The NIIC. "All of our Launch Women Business Builders push through the roller coaster that is business building and persevere to reap the benefits. They stay focused and strong when there is seemingly no strength left."
WEOC Launch Women Business Builder Amber Harper, Owner, BurnedIn Teacher and EdTech Consulting, was awarded the 2019 WEOC Founders Cup Award and a $500 cash award to help grow her business. "Amber devours mentoring, has full trust in her WEOC business coaches and works through her fears. One particular fear she recently conquered was hiring staff for her business. Overcoming this fear is helping her to flourish and grow her company," said Hill.
The Mirro Business Builder Award was presented to Jillian Lee, Founder and CEO, UniqueLee Creations, LLC. "This award was established five years ago to recognize an outstanding performer and embodies the characteristics of The NIIC Founding Board Chair Dr. Mike Mirro. Dr. Mirro personifies core traits of personal excellence, energy, passion and making a lasting community impact," said Karl R. LaPan, President and CEO, The NIIC. In addition to the award, Lee received a cash award of $1,250 to help grow her business. "Receiving the Mirro Award lets me know dreams do come true. WEOC and my business coaches have helped to push me when I felt unmotivated. Being in a group of other women helped me to see we all experience the same feelings and challenges. We lift one another up, which is great," said Lee.
In addition to the awards presentations, Keynote Speaker Santiago Jaramillo, CEO and Co-Founder, Emplify, shared Lessons Learned from a Purpose-Centered Entrepreneurial Journey. His journey began at age seven, when he sold avocados above market price to his parents' friends in Columbia. At about that same age, he advanced to an exclusive, distribution agreement with a water supplier to buy and deliver with his red wagon gallon-jugs of water to his neighbors. It was at this young age he saw the hunger among local kids and began using profits from his business to help feed them. "Purpose matters," said Jaramillo. "Ikigai, a Japanese concept meaning a reason for being is part of a broader movement for all generations. This is a driving force." He is now a serial entrepreneur, and has developed and grown multiple small and midsize companies.
Visit TheNIIC.Org/IdeasatWork/ to learn more about the Ideas@Work Signature Event, which is becoming a movement of celebrating entrepreneurship across Indiana.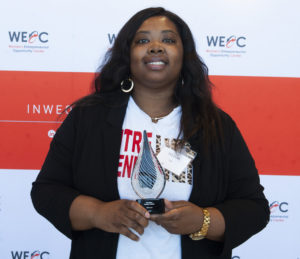 Cutline 1
2019 NIIC Mirro Business Builder Award Winner Jillian Lee, Founder and CEO, Uniquelee Creations, LLC

Cutline 2
WEOC Launch Women Business Builders Cohort 2 and 3
Left to right: Amber Harper, Burned In Teacher and Ed Tech; Jillian Lee, Uniqulee Creations, LLC; Kelley Marvin, Inspired Nutrition By Kelley; Ariel Christian, Kiddy Garden Cooks; Audrey Balogun, business unnamed; Candice Munson, Flourish & Flounce; Jennifer Hunter, business unnamed; Markieta Townsend, business unnamed; Michelle Mang, business unnamed; Sandy Gamby, Tandem Coaching, LLC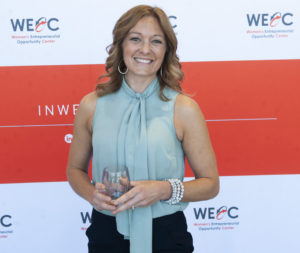 Cutline 3
2019 WEOC Founders Cup Award Winner Amber Harper, Owner, Burned In Teacher and Ed Tech Consulting
About The NIIC
The NIIC is a non-profit, vibrant entrepreneurial community. We help business builders and entrepreneurs launch and grow successful business ventures. We are located in a designated U.S. Small Business Administration HUB Zone. In April 2018, Indiana Governor Eric Holcomb designated The Northeast Indiana Innovation Park Campus as an Opportunity Zone through the U.S. Treasury. The NIIC was formed in 1999 by a consortium of community and government leaders and organizations and was recognized by Entrepreneur magazine in 2013 as one of the top four under-the-radar incubators in the country. Entrepreneur magazine, with the help of International Business Incubation Association (InBIA) picked four U.S. incubators to highlight. We were one of them. The NIIC is the country's only ISO9001:2015 registered business incubation and acceleration program. Click here for The NIIC press kit.
About WEOC
The Women's Entrepreneurial Opportunity Center (WEOC) serves Northeast Indiana women at all stages of their business ventures. WEOC responds to the unique needs of women entrepreneurs through business growth coaching, training and education, connectivity, mentoring and access to capital. WEOC is funded in part through a cooperative agreement with the U.S. Small Business Administration. As the Host organization, The NIIC also provides funding and supplemental and complementary resources for WEOC, an SBA designated Women's Business Center—one of two in Indiana.