Annual Entrepreneurial Event Honors Entrepreneurs, Inspires to Innovate During a Pandemic
Tammy Allen, Director | Marketing & Programs, The NIIC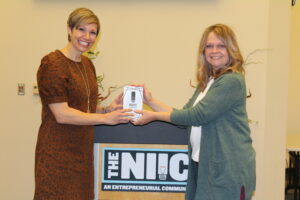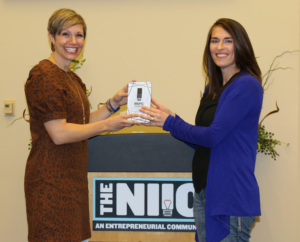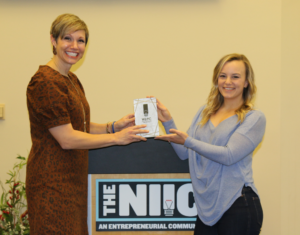 For immediate release
November 16, 2020, Fort Wayne, Ind.— At the beginning of this year amidst an emerging pandemic, the projections were bleak for small business owners. Some have not survived. Yet, some have taken the opportunity to reinvent themselves and thrive. Such companies were celebrated at today's Dr. Daryl R. Yost Ideas@Work Livestream Events.
The Mirro Business Builder Award is named after Dr. Mike Mirro, physician, entrepreneur, visionary, researcher, community leader, and founding board member of The NIIC. The award honors an entrepreneur who personifies core traits of personal excellence, energy, passion, and making a lasting community impact. This year's award was presented to Angela Harrison, Bakerson Pie Company. "This is a huge honor, and I'm so thankful. Thank you for the vote of confidence through this award," said Harrison.
The WEOC Launch Women Business Builder Award was presented to four clients who completed this year-long program. The program serves as an accelerator for women who want to start, grow, and accelerate their digital, e-commerce, mobile app or web-based businesses and focuses on mentoring, growth resources, and capital. Award recipients included:
WEOC Founder's Cup Award is funded through Ideas@Work sponsorships and helps provide access to capital to WEOC Launch Women Business Builders. One founder is selected from each cohort to receive the $500 award. This year's Founder's Cup Award recipient is Jackie Hook.
The Dr. Daryl R. Yost Excellence in Philanthropy Award is a new award honoring a former NIIC colleague and friend. Maclyn (Mac) Parker, Chair, The Olive B. Cole Foundation, is the inaugural award recipient. "Mac is a board member of The NIIC and has been since its inception. Through his leadership and commitment, he has demonstrated his ability to support The NIIC throughout its life. It is an honor on behalf of The NIIC Board and our entire organization to award this to Mac Parker," said Karl R. LaPan, NIIC President and CEO. Upon receiving the award, Mac said, "It is a real honor to receive this award, particularly because it is named after Daryl Yost. He was a mentor of many and a good friend to a lot of us." While accepting the award, Parker reflected on visiting Indianapolis and Chattanooga some years ago and was inspired to pursue entrepreneurial endeavors for Northeast Indiana. This led, in part, to the formation of The NIIC. "New job creation and helping entrepreneurs is important to economic development. The NIIC has fostered that. Karl LaPan has been such a great leader, and The NIIC has done so much in our community, leading entrepreneurship."
Serial entrepreneur and WKI Founder (wendykennedy.com) Wendy Kennedy inspired the Livestream participants. She emphasized how today's business builders have to rethink their business models, find alternative revenue streams, expand their business model thinking, and engage their potential customers to find out how their needs have changed to stay relevant. She challenged business builders to be resilient, never quit, and confidently move toward their dreams.
Ideas@Work concludes on November 18, 2020. Two additional upskilling workshops round out this year's offerings. Creating Exceptional Customer Experience is November 16, 10 a.m. to 11 a.m. and will be led by LaPan and Ted Baker, CEO/Executive Director, Muncie Innovation Connector, Inc.  Failure in a Culture of Innovation is November 18, 10 a.m. to 11 a.m. and led by LaPan. Both are Livestream events.
For further information about the bonus upskilling workshops or learn more about the Dr. Daryl R. Yost Ideas@Work movement, visit https://niic.net/ideasatwork.
Cutline 1: WEOC WBC Launch Women Business Builder Program Award to Angela Harrison, Bakerson Pie Company
Cutline 2: WEOC WBC Launch Women Business Builder Program Award to Jackie Hook, High Point Ready
Cutline 3: WEOC WBC Launch Women Business Builder Program Award to Carli Webb, the Healthy Female Project
About The NIIC
467 new products launched, 189 patent applications submitted or granted, and 2,290 jobs created—that is what entrepreneurs have achieved through The NIIC since its inception two decades ago. The NIIC has also connected Northeast Indiana companies to attract $91 million in grants and capital.
The NIIC is a non-profit, vibrant entrepreneurial community designed to advise entrepreneurs to plan, launch, and grow successful business ventures. The NIIC bolsters innovative companies to move ideas into action. The NIIC is located in a designated U.S. Small Business Administration HUB Zone. In April 2018, Indiana Governor Eric Holcomb designated The Northeast Indiana Innovation Park Campus as an Opportunity Zone through the U.S. Treasury. The NIIC is the country's only ISO9001:2015 registered business incubation and acceleration program. TheNIIC.org. Click here for The NIIC press kit.
About WKI
Since 2005, WKI-wendykennedy.com inc. has delivered robust, innovative, and visual design thinking frameworks for business builders to ideate and find the business value of ideas. The WKI methodology,  So what? who cares? why you?® has supported thousands of researchers, scientists, engineers, and other innovators across the globe to discover the opportunity their ideas represent and unlock their full business potential. With certified professionals in more than 20 countries, this unique methodology has been used to explore the business value inside early-stage ideas spanning medical devices, alternative energies, robotics, aerospace, drugs, sensors, and more. Customers include the European Space Agency, Air Force Research Labs, The University of Texas, University of Florida (UF) Innovate, University of Nebraska, Community Health Network, The NIIC, and many others.
Contact: Tammy Allen, Director|Marketing & Programs, tallen@niic.net, 260-407-1731
#  #  #