CHL Client Wave Therapeutics Awarded $10,000 Prize Plus $30,000 In-Kind Support
Rhonda Ladig, Connected Health Lab Program Manager, NIIC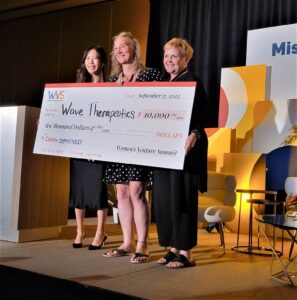 Nashville Indiana-based Wave Therapeutics founder Jessica Bussert won this year's Women's Fast Pitch at the Women's Venture Summit on September 17 in San Diego. The prize included $10,000 and $30,000 in in-kind support.
In a surprise decision, Bussert announced that she would invest $2,000 in each of the other five ventures. In a conversation with CHL Program Manager, Rhonda Ladig, Bussert stated, "It's tough for women founders to get funded. It just felt right. We have to stick together!"
Wave Therapeutics is a smart technology that prevents pressure sores. Bussert is a former tech professional who became an RN at age 40. She saw the massive impact of bed sores, especially on veteran patients bound to wheelchairs or beds. She developed Wave Therapeutics as a more effective, more affordable solution for healthcare providers and patients.
To learn more about how the device works, click here.
To learn more about the Wave Therapeutic solution, visit www.wavetherapeuticsinc.com or email to wave@bussert.com.