Inspirational Entrepreneurship Event, Fireside Chat with Regional Founders – Elevate Northeast Indiana and NIIC Host
Andie Hines-Lagemann, Startup Ecosystem Manager, Elevate Northeast Indiana and Tammy Allen, Sr. Director | Marketing & Communications, NIIC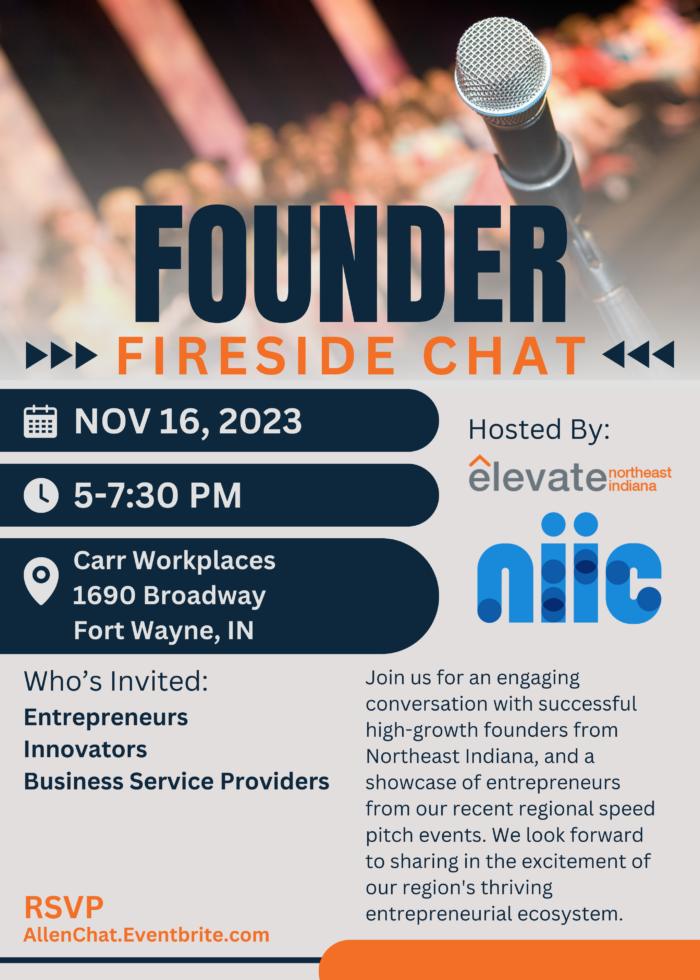 Photo by Elevate Northeast Indiana
Fort Wayne, October 23, 2023 – Elevate Northeast Indiana, in collaboration with Northeast Indiana Innovation Center (NIIC), is thrilled to announce an exciting evening of entrepreneurship and innovation at Carr Workplaces on the Electric Works campus on Thursday, November 16, 2023, 5:00 p.m. to 7:30 p.m. The event promises an illuminating fireside chat with regional founders and a showcase of promising pitches from recent regional Open Mic events in Noble, Steuben, LaGrange, and DeKalb Counties.
Highlighting Regional Founders:
Experience a captivating fireside chat with regional founders Ian Harley (Traction Ag), Ariana McGee (Navigate Maternity), and Mark Schindel (Owl Manor). These visionary entrepreneurs have left an indelible mark on the regional startup landscape, and their insights are sure to inspire and energize aspiring founders.
Celebrating Regional Innovation:
Elevate Northeast Indiana and NIIC are dedicated to fostering entrepreneurship and innovation across the 11-county region. This event showcases the vibrant entrepreneurial spirit in Northeast Indiana with pitches from recent Open Mic events held in Noble, Steuben, LaGrange, and DeKalb Counties.
These entrepreneurs are the future of our business community, and their innovative ideas are set to shine.
Culinary Delights and Refreshments:
In addition to the enlightening discussions and impressive pitches, attendees can enjoy craft cocktails from Charlie Horse and a taco bar from Pikoso Burrito Company – local vendors from Union Street Market.
Join Us for an Evening of Inspiration:
This event is a must-attend for anyone passionate about entrepreneurship, innovation, and the future of Northeast Indiana's business landscape.
This event is especially for entrepreneurs, aspiring entrepreneurs, or anyone who helps businesses launch and grow. The connections, knowledge, and inspiration you'll gain from this evening will undoubtedly fuel your entrepreneurial journey.
Event Details:
Date: Thursday, November 16, 2023
Time: 5:00 p.m. – 7:30 p.m.
Location: Carr Workplaces, Electric Works
Cost: No charge
###
About Elevate Northeast Indiana
Elevate Northeast Indiana is a regional presence for Elevate Ventures. Elevate Ventures is a private venture development organization assisting high-growth startups and early-stage companies to expand into high-performing, Indiana-based companies. Elevate has invested over $166 million in more than 550 companies through various programs. Pitchbook has ranked Elevate as the Most Active VC in the Great Lakes Region since 2017. To learn more, visit elevateventures.com or elevatenei.com.
About Northeast Indiana Innovation Center (NIIC)
About 23 years ago, NIIC was created to solve a problem. Aspiring innovators and entrepreneurs needed somewhere to go in Northeast Indiana to incubate their businesses. Visionary leaders imagined a place where innovation and economic development intersect for a COMMUNITY. Entrepreneurs and innovators have launched hundreds of new products and patents, created thousands of jobs, and infused hundreds of millions in grants and capital into our economy.
As a Venture Hub, NIIC pulls down barriers (geographic, racial, socio-economic, and interest-based), working with the regional Community of Communities to create an ecosystem of Entrepreneurship for ALL.™ NIIC's focus is collaboration and maximizing the impact of regional partners.
The International Business Innovation Association (InBIA) recognized NIIC with the 2020 Dinah Adkins Award and the Entrepreneur Center of the Year: Mixed Use Award. NIIC's WEOC Women's Business Center (WBC) received top honors from the U.S. SBA as the 2023 Great Lakes Region Business Center of the Year and 2023 AND 2022 Indiana Women's Business Center of Excellence.
Media Contacts
Andie Hines-Lagemann                                                                  Tammy Allen
Startup Ecosystem Manager                                                          Sr. Director | Marketing & Communications
Elevate Northeast Indiana                                                             Northeast Indiana Innovation Center (NIIC)
ahines-lagemann@elevateventures.com                                tallen@niic.net