Mental Health America Northeast Indiana Increases Community Mental Health Awareness
Tammy Allen, SR. Director | Marketing & Communications, The NIIC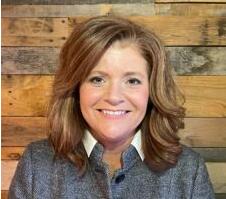 Tara Holliday, Executive Director, Mental Health America Northeast Indiana
Mental Health America of Northeast Indiana is on a mission to raise awareness about mental and emotional health in a way that encourages people to build connections and know where to turn during a mental health crisis. They accomplish this mission through advocacy, education, and connections.
NIIC:  What problem was your company formed to solve?
Mental Health America has a long history of addressing mental health in local communities. The national organization was formed in 1909, and our local chapter was founded in Fort Wayne in 1954. Our mission has always been to promote mental and emotional health through advocacy and education.
We serve 11 counties in Northeast Indiana, focusing on the prevention and early detection of mental health challenges. Through various programs, we help people recognize when they might be in crisis and understand where they can turn for help.
NIIC:  What triggered the launch of your business?
While we have been serving people in Northeast Indiana for over 65 years, our business model has changed significantly in the past few years. As with most businesses and non-profits, COVID impacted how we operated.
We had owned 5,000 square feet of office space, but as a result of the pandemic, we discovered that we could work better virtually or in the field rather than in such a large space. We began to look for a location where we could lease office space and moved to our current location at NIIC on Stellhorn Road in April 2022.
NIIC:  How does it work?
Mental Health America of Northeast Indiana offers three main programs: training, peer support, and guardianship.
Our training program offers a variety of resources to community stakeholders. With staff certified in a number of evidence-based trainings, we are able to share resources at low cost or no cost that help people understand how stigmas and stress impact mental and emotional health.
Our peer support program connects people who are in mental health recovery and doing well with others who are early on in that journey. We provide weekly virtual support groups for people with anxiety and depression, and we offer a special certification process for those who wish to help others in recovery.
Finally, our guardianship team, supported by volunteers, are guardians for individuals the courts deem incapable of making sound decisions on their own. Our clients are adults with no family or friends, so our guardians become their advocates and voices to ensure proper decisions are made on their behalf every day.
While all three programs could be their own organizations, they possess the common thread of education and advocacy.
NIIC:  How has Mental Health America of Northeast Indiana engaged with The NIIC?   
The space at The NIIC is perfect, and we love bringing people to The NIIC and being able to show it off!
Our former office had limited parking or space for larger events. Now we have significant parking and the capacity to host events that we would never have been able to host before.
We also love the on-site catering. That service is really advantageous for us. We have used it for breakfasts, lunches, and evening symposiums. The catering is phenomenal and convenient, and we've utilized it on a regular basis.
We also believe that we are at The NIIC for a reason, and we're working on how we can form collaborative partnerships with other clients at The NIIC. And we are always open to providing training sessions or presentations at The NIIC as well.
NIIC:  What's on the horizon for your company?
We've gone through a lot of transitions here. Of course, every organization could say that since COVID. While we are continuing to offer our current programs, we are also looking to expand our support groups. We feel that there are more groups that we could offer, not just about anxiety and depression, but other topics as well, especially for youth or parents of youth.
We're still paying attention to gaps in the community regarding mental health awareness, and we're always looking at where it makes sense to fill those gaps. But in a lot of ways, we've had so much change and transition that we're looking forward to getting rooted in our new location. We want to focus on what we do and do it really well.
NIIC: What's one thing people should know about Mental Health America of Northeast Indiana right now?
We're still the same Mental Health America that's been here since 1954. Our mission hasn't changed. We're still dedicated to promoting mental and emotional health. We all recognize that people now more than ever are willing to talk about mental and emotional health than they were in the past. Yes, we still have a lot of work to do, but we're definitely moving the "stigma" needle.
We want people to know that it's important to build relationships with one another and take the time to listen to each other, especially a physical neighbor or co-worker. A lot of the success stories we hear are about somebody who took the time to really listen in a way that encouraged people to open up. We are social beings, and we need one another. There's no shame in that.
It's also important for people to know that they can advocate for themselves. Mental health is just like our physical health. Sometimes challenges arise that need to be addressed. In those cases, people need treatment, not just "time to heal."
Above all, we want people to know that it has been an honor to serve the community, and we will continue to do so.