Northeast Indiana Innovation Center Outlines New Strategic Plan
Doug LeDuc, Reporter, Greater Fort Wayne Business Weekly
Excerpt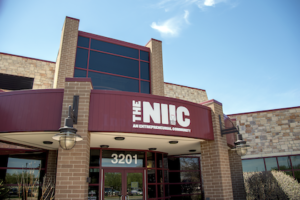 "Jillian Lee and Amber Harper were honored as two of the top entrepreneurs participating in programs at the Northeast Indiana Innovation Center during an event that provided an update on its new strategic plan.
Lee is the founder of UniqueLee Creations LLC, which helps people stand out and feel unique with custom bling items. She received the 2019 Mirro Business Builder Award during the annual Ideas@Work signature event that NIIC held April 16 at the Parkview Mirro Center for Research & Innovation.
Harper is the founder of Burned-In Teacher, a teacher coaching and education technology consulting business. She was among the first startup founders to participate in a diverse entrepreneur accelerator program offered by the Women's Economic Opportunity Center at the NIIC. She received the 2019 WEOC Founders Cup Award.
In addition to the award presentations and NIIC strategic plan update, the fundraising event acquainted supporters with the employee engagement work of Santiago Jaramillo, co-founder and CEO of Indianapolis-based Emplify, who delivered this year's Ideas@Work keynote address.
Karl LaPan, president and CEO of the Innovation Center at 3201 Stellhorn Road in Fort Wayne, outlined four initiatives in his description of NIIC's new strategic plan."
Click here to read the full story on Greater Fort Wayne Business Weekly.