Annual Entrepreneurial Event Focuses on Vision, Celebrates Small Business Owners and Philanthropist
Tammy Allen, SR. Director | Marketing & Communications, NIIC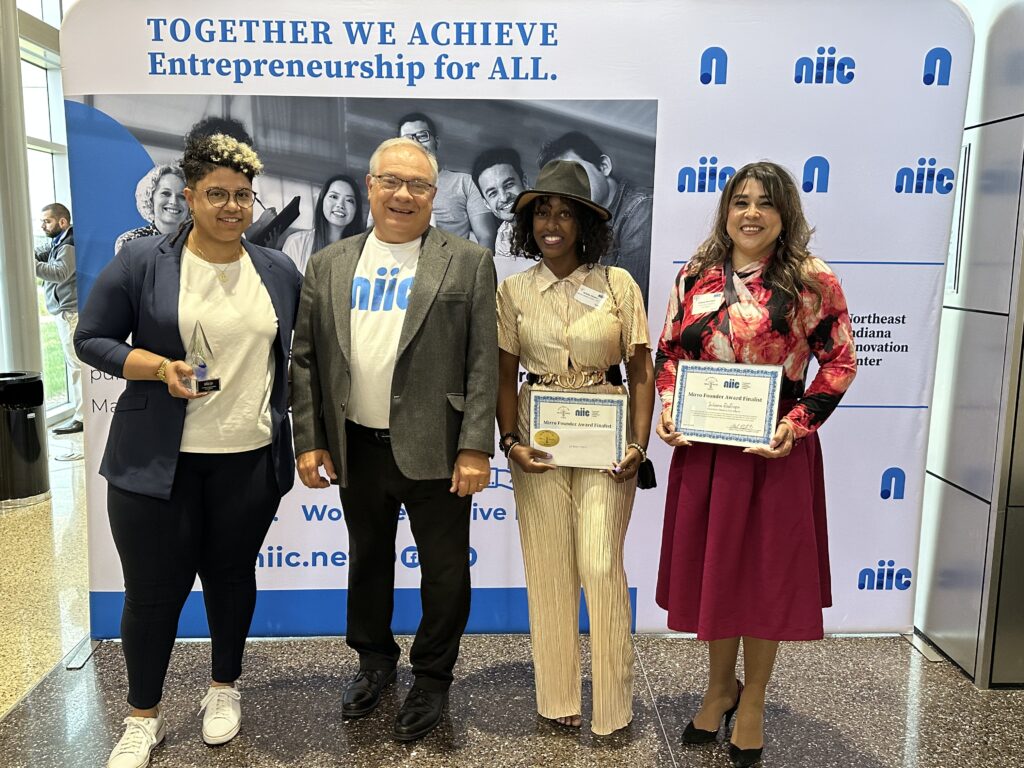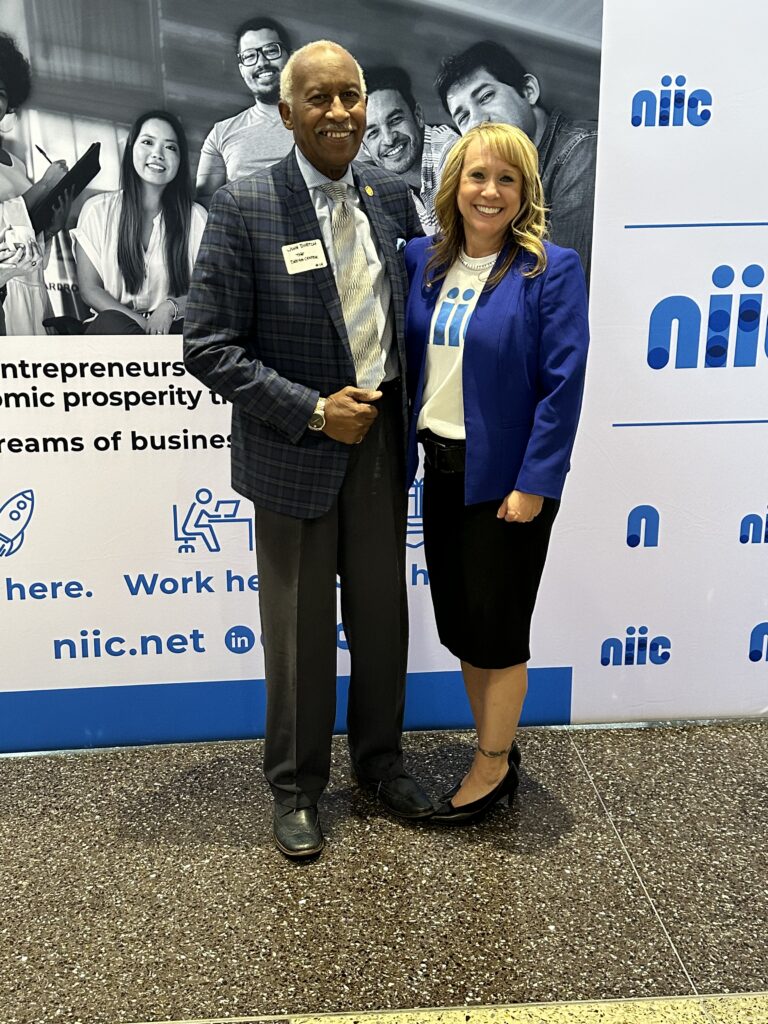 Fort Wayne, Ind.— April 24, 2023 – Entrepreneurial vision was a unifying thread at the Dr. Daryl Yost Ideas@Work event. Honorees and local, state, and national speakers conveyed vision in action. In addition to honoring entrepreneurs and a local philanthropist, attendees learned and were inspired by a keynote speaker, NIIC representatives, and a guest speaker.                      
Keynote Speaker Casts Vision for Northeast Indiana
Keynote Speaker Patrick Riley, CEO of Morrow and Managing Partner of Morrow Ventures, said, "We develop meaning through vision, purpose, method, and meaning. It all begins with vision. Aristotle said to start with your vision. It dictates your why."
Riley challenged the group to do three things.
Focus inward. "It's not about the company. It's about the people at the company," he said.
Stop. Slow down. "It's in the quiet that you notice stuff."
Use these to form your vision.
Riley shared a vision for Northeast Indiana entrepreneurship. "My vision is that you wouldn't just be known for the creation of startups but for being the best in the world at the creation of startups with meaning."
Mirro Founder Award
The Mirro Founder Award recipient and finalists know why their businesses were founded and exist.
"Today, we recognize our finalists and the Mirro Founder Award winner. The Award recognizes an exemplary business that embodies personal excellence, energy, passion, and making a lasting community impact," said Leslee Hill, Director, of WEOC Women's Business Center at NIIC.
Sasha Chaney, Founder, of Legendary Barber Lounge, received the Mirro Founder Award and a $1,000 check to help grow her business. "It's exciting to see someone who is so passionate about what they do and has outstanding business savvy. Sasha embodies that," said Hill. Chaney has over 10 years of experience providing premier men's grooming services and is driven to excellence. Her team is passionate about its craft and seeks knowledge and growth daily to ensure they do not plateau in service.
Three finalists were honored with a certificate and a $500 check to help grow their businesses, including:
Nurliza Ahmad Yee, Shwe Myeik Travel & Tour: Hajj & Umrah, LLC;
NiYoka Moore, Moore Unique Styles, LLC;
Juliana Restrepo, Columbian Delights Fort Wayne.
Dr. Daryl Yost Excellence in Philanthropy Award 
As a serial entrepreneur and author of three books, John Dortch, President, The Preston Group, LLC, Fort Wayne Ink Spot, LLC, and The Dream Center, knows about vision. He is this year's award recipient.
"John's dedication to our community has contributed to the economic and social development of the city of Fort Wayne. He promotes growth and prosperity and has a passion for helping others succeed. He has given back to his community in many ways, serving on various boards and volunteering his time and expertise. He is a friend, mentor, and leader to many of us today," said Jami Thomas, SR. Director | Business Development, NIIC.
Dortch said, "I do what I do because I love doing what I do. Spike Lee came out with a movie titled Do the Right Thing. I always try to do that. I wouldn't say I like to go around saying what I've done, what I'm planning to do, or anything of that nature. I can tell you one thing. I'm not done yet. Doing what is right is doing what is best for the greater or common good."
Dortch joked, "In receiving this award, I look at NIIC, and I believe they did the right thing because I got the award, and I do appreciate that." He shared about The Dream Center, which he founded and recently opened. It will offer 21 classes, teaching life skills to community members. The Parkview Care Van will be on-site once a month.
Entrepreneurship for ALL in Northeast Indiana
Mike Fritsch, President and CEO, NIIC, challenged how we serve and perceive the success of entrepreneurship in our region. "What I want to talk about today is how we help individuals and what that means. 95% of those we serve own a business to support their families or to activate a passionate idea. These individuals are the fabric of entrepreneurship. Some do become larger businesses." Last year, NIIC served 1,717 businesses in Northeast Indiana.
"NIIC has realized that Northeast Indiana is a community of communities. The communities could be geographic, racial, gender-based, interest-based, or however you want to define it. Each community needs to be helped differently because they have different problems. Each has different needs."
Over the years, more entrepreneurial resources have emerged to help business builders. "The problem is we are not working together. We're all helping them independently. If someone wants to start a company, they don't know where to go. What we need to do is coordinate."
"The NIIC has been working on a vision and a mission that we're calling Entrepreneurship for ALL. The three main components are:
How do we help all the underserved communities in Northeast Indiana? All deserve the opportunity for economic prosperity through entrepreneurship.
Entrepreneurs deserve access to the right kind of help when they need it from all providers.
Better support five types of businesses: solopreneur/micro business, small business, scalable business, large corporations, and social entrepreneurs.
NIIC created an initiative to encompass these three components, reflected in the organization's new purpose and mission statement. It is to transform the lives of people, companies, and communities through entrepreneurship. NIIC is identifying how to measure that transformation.
Elevate Ventures' Vision for Indiana
Christopher Day, Chief Executive Officer, Elevate Ventures, shared a vision for Indiana to become the productivity boom epicenter of the United States. "A phenomenon is occurring called the productivity boom. It's the disruption of data with technology cross sectors. It's believed the productivity boom epicenter will occur in the central corridor of the United States. I believe that is true, and there is an opportunity for this to occur right here in Indiana," said Day.
As part of this, Day envisions Indiana being the location for the World's Largest Cross-Sector Innovation Conference, called Rally. It will include a $5 million pitch competition—one of the largest pitch competitions in the world. The first Rally is on August 29 – 31, 2023. Five pitch competition winners will receive $1 million and move to Indiana for one year to grow their businesses. Rallyinnovation.com
Proceeds from the Dr. Daryl Yost Ideas@Work Event support The NIIC's WEOC Women's Business Center. It is one of two Indiana women's business centers designated and funded by the U.S. Small Business Administration.
Fritsch expressed his appreciation for the generous support of this year's event sponsors and all individuals who attended. "We are grateful for how the entire community has come together to support and invest in the next generation of entrepreneurs and innovators in Northeast Indiana," Fritsch said.
Cutlines:
NIIC Ideas@Work Mirro Founder Award – (left to right) Mirro Founder Award Winner Sasha Chaney, Legendary Barber Lounge, Mike Fritsch, President and CEO, NIIC, NiYoka Moore, Moore Unique Styles, LLC, Julianna Restrepo, Columbian Delights Fort Wayne. Not shown: Nurliza Ahmad Yee, Shwe Myeik Travel & Tour: Hajj & Umrah, LLC
NIIC Ideas@Work Dr. Daryl Yost Excellence in Philanthropy Recipient John Dortch, President, The Preston Group, LLC, Fort Wayne Ink Spot, LLC, The Dream Center, and Jami Thomas, SR. Director | Business Development, NIIC
About NIIC
About 20 years ago, NIIC was created to solve a problem. Aspiring innovators and entrepreneurs needed somewhere to go in Northeast Indiana to incubate their businesses. Visionary leaders imagined a place where innovation and economic development intersect for a COMMUNITY. Entrepreneurs and innovators have launched hundreds of new products and patents, created thousands of jobs, and infused hundreds of millions in grants and capital into our economy.
As a Venture Hub, NIIC pulls down barriers (geographic, racial, socio-economic, and interest-based), working with the regional Community of Communities to create an ecosystem of Entrepreneurship for ALL. NIIC's focus is collaboration and maximizing the impact of regional partners.
The International Business Innovation Association (InBIA) recognized NIIC with the 2020 Dinah Adkins Award and the Entrepreneur Center of the Year: Mixed Use Award.
NIIC's WEOC Women's Business Center (WBC) is one of two U.S. Small Business Administration-designated Women's Business Centers in Indiana. WEOC WBC was named 2022 SBA Indiana Women's Business Center of Excellence.